Reports & Communication Tools
Robust reporting and communication tools ensures smooth implementation and dedication to ongoing execution.
Communicate with conviction

using automated plan reports.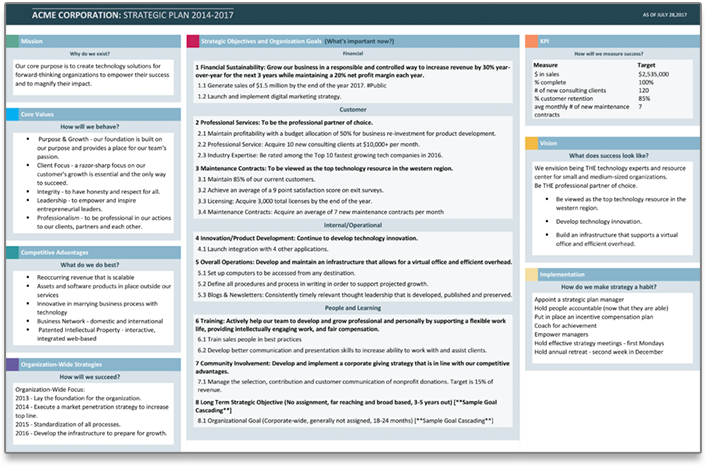 Downloadable Plan Reports
Clearly and effectively communicate your strategic direction and expectations with 8 corporate and department plan reports. Included reports:
Corporate Plan Reports
Full Strategic Plan
Executive Summary
One-Page Plan
Road Map
Linear Cascade
SWOT
One-Click
Budget
Department Plan Reports
Dept. Full Strategic Plan
Dept. Executive Summary
Dept. One-Page Plan
Dept. Road Map
Dept. Linear Cascade
Dept. SWOT
Dept. One-Click
Dept. Budget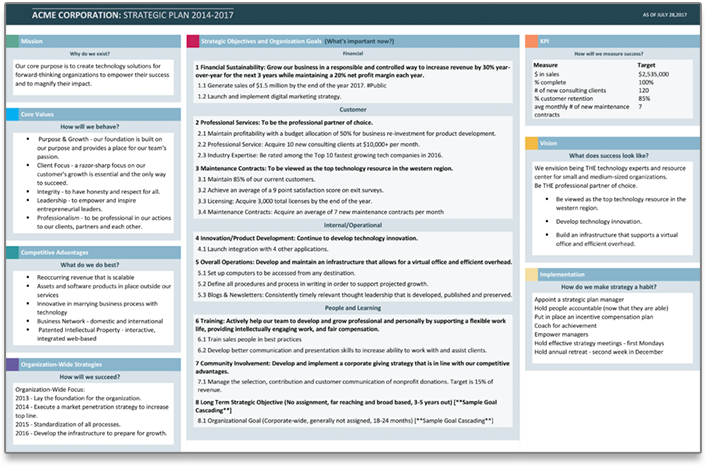 Execute with fidelity

using organization-wide action planning.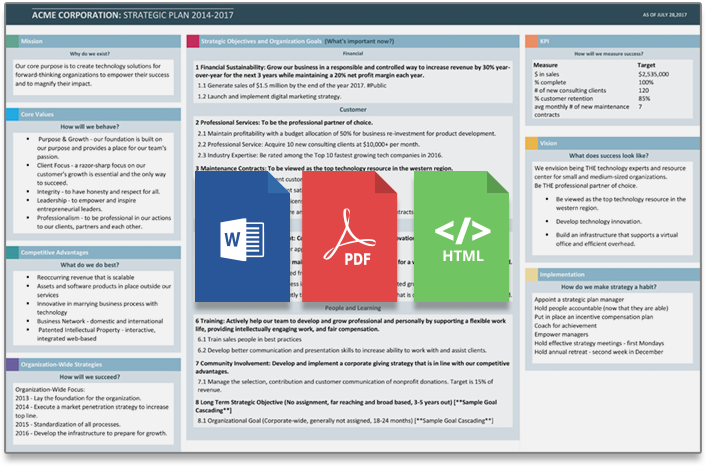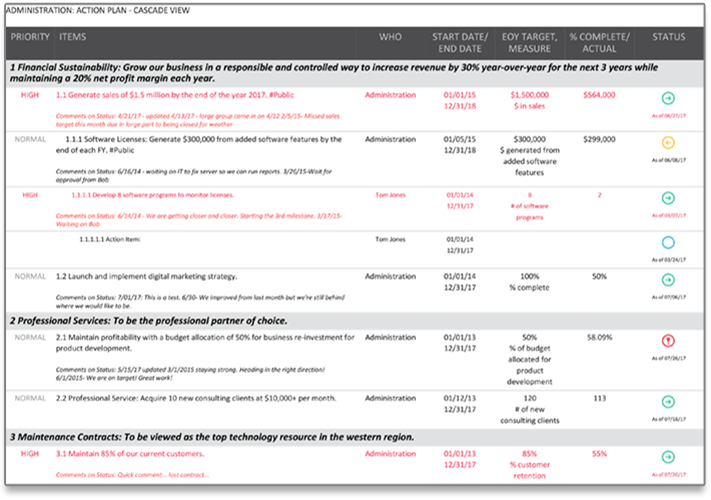 Action Plans & Performance
Quickly see your plan's performance and download department/individual action plans to keep your strategy's momentum moving forward. Included suite of performance reports and action plans:
Performance Reports
Full Strategic Plan w/Progress
Executive Summary w/Progress
Scorecard
Strategy Review PPT
Action Plans
Dept. Action Plans
Individual Action Plans
Individual Scorecards
Individual Performance Review
Keep your team informed

with automated communication tools.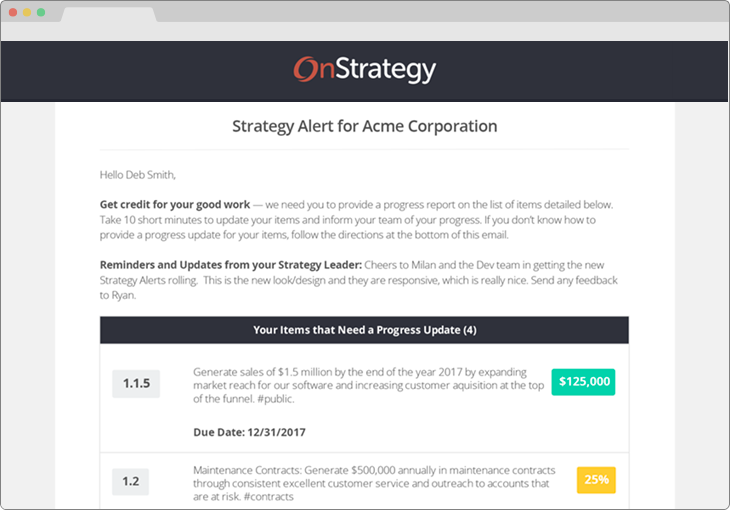 Alerts & Communciation
Strategy Alerts
Automated emails notify each member of your team the goals and actions that need an update.
Weekly Activity Recap
Receive weekly emails detailing the progress your team has made executing against your plan.
Commenting
Iterate with your team with our internal commenting system to allow collaboration.
One-Page Plan
Articulate your strategic direction and identify what needs your focus in a single view.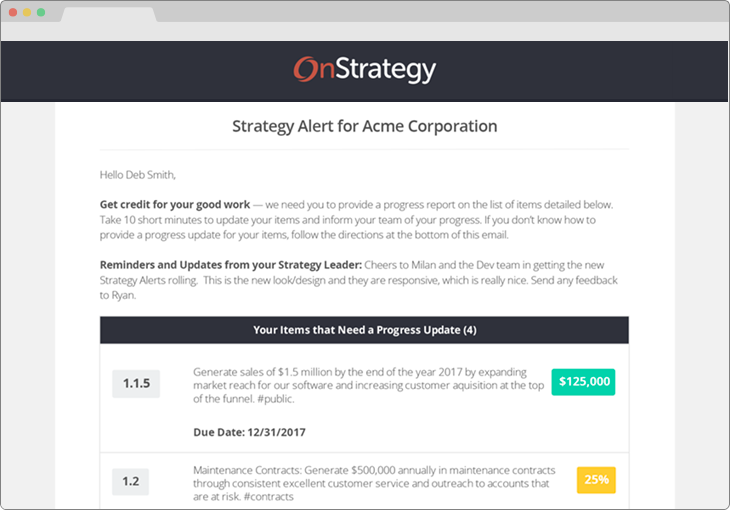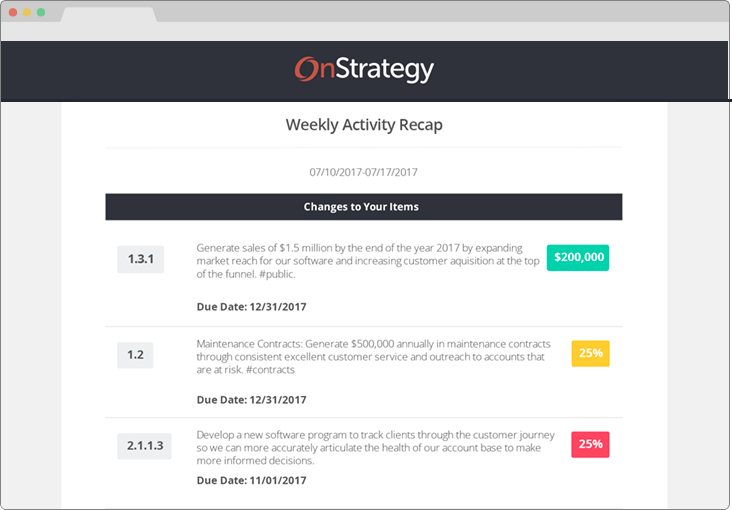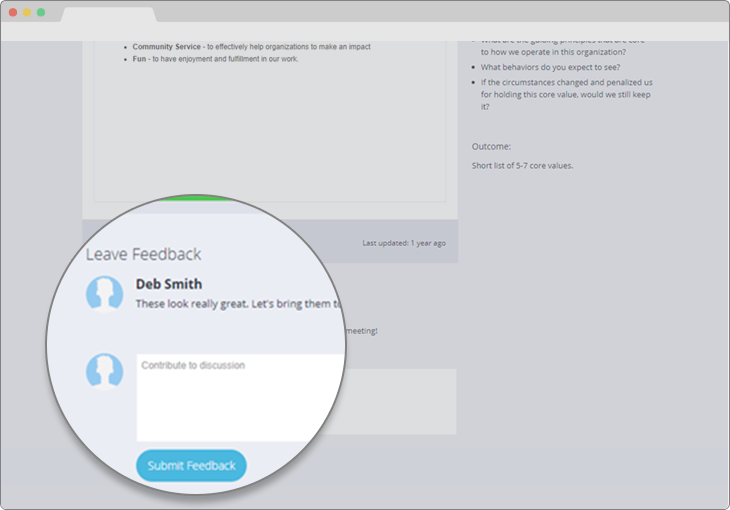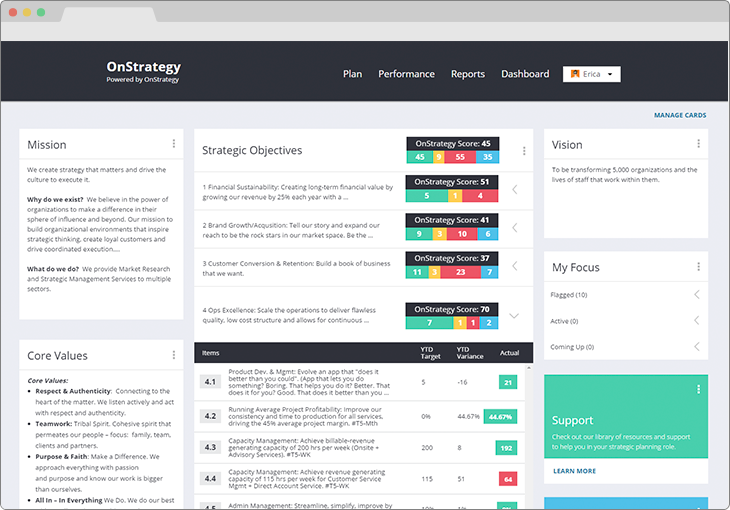 Update Performance in 30 seconds

with OnStrategy Mobile.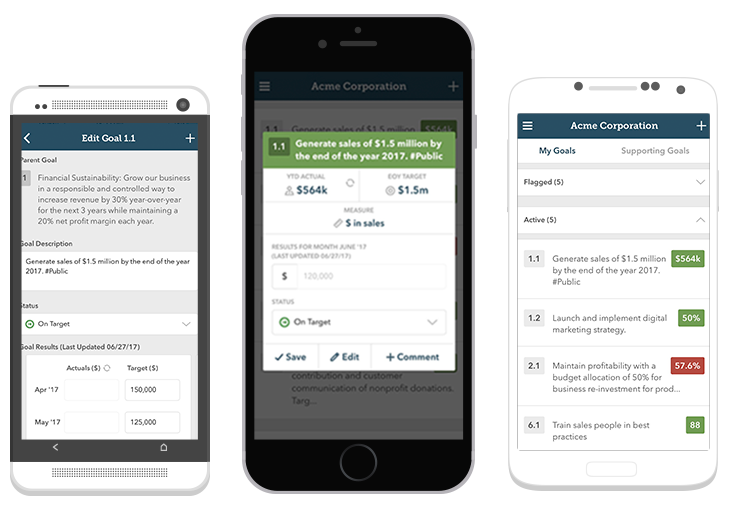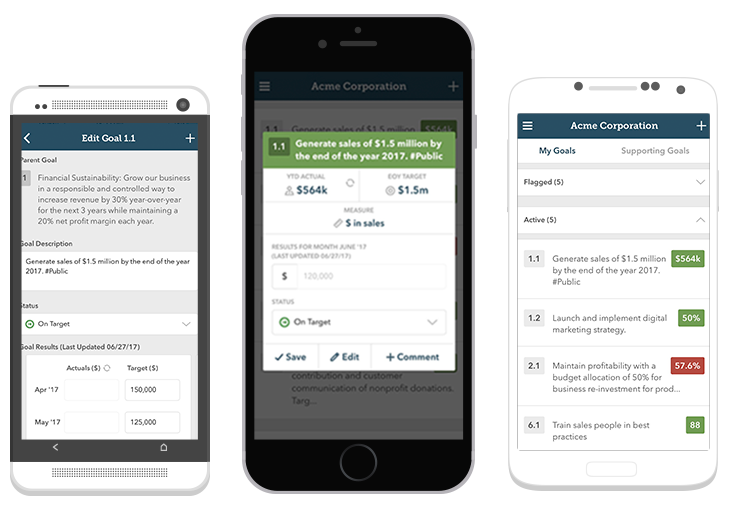 OnStrategy Mobile

Keep your team focused on their priorities to drive results from the bottom up.

Stay Focused on What Matters Most

Stay focused on your team's goals. See the top priorities with a single glance.

Manage Performance in 30 Seconds

OnStrategy Mobile provides simple, streamlined progress reporting so your team can manage their performance in just a few seconds.

Automated Organization

Dynamically generated lists sort your goals keeping those requiring attention front and center.

Know Exactly Where You Are

Your team will know how they're executing against your organizational strategy by quickly viewing their performance and supporting actions.