Dynamic One-Page Strategic Plan
It's smart. It's powerful. It keeps your team focused.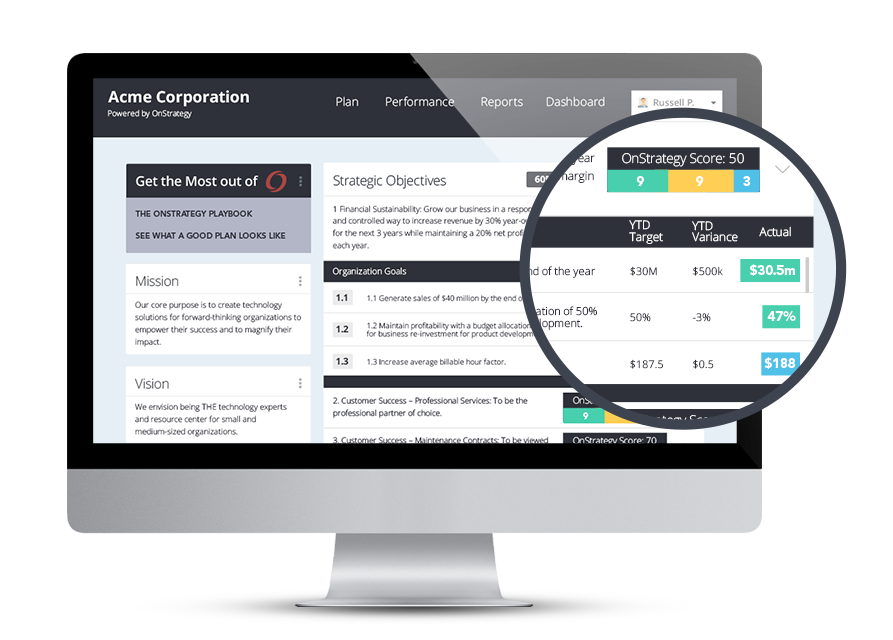 Strategic Planning Template.

Build your plan quickly using this interactive planning template that puts everything that's important to you right at your fingertips.

Stay Connected to Your Core Purpose.

We've put your organization's mission, vision, and core values front and center so your team is always connected to your strategic direction and long-term priorities.

Be Focused and Aligned.

Actively monitor and manage your organization's core performance and quickly see where you are against your plan.

Make Results Happen.

See quickly where you are against your plan, if your organization is producing results, and if you're on-track to meet yearly goals.
Update Your Performance Fast.

See the performance of your plan's core strategic objectives and manage the performance of goals you're responsible for in only a few clicks.

Quickly Access Performance Data.

Use the Visual Performance Dashboard and Organization Reports to arm your team with the information you need to monitor your performance and make adjustments where needed.

Get the Most from OnStrategy.

We've built a resource toolkit so you can quickly implement a strategic management system within your organization.

It's Fully Customizable.

The new Dynamic One-Page Strategic Plan is completely customizable so you can tailor it to fit your exact needs. Adjust it based on what you'd like to see or where you are in the planning process.