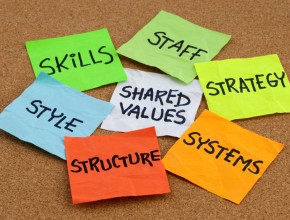 Without a clear, concise strategy there would be no strategic plan.  Lately it seems as if organizations are becoming wrapped up in the process of creating a plan for planning purposes and not creating a plan based on strategy.  In a recent article from Harvard Business Review titled, Don't Let Strategy Become Planning, Roger Martin writes about how people need to think about strategic planning as strategy and not just creating a written plan.  Martin writes that "strategy is not planning."  Your strategic plan does not need to be another thing to just cross off the list.  It needs to become a daily habit and to make it a daily habit, it needs to have a clear strategy as its foundation.
Strategy means consciously choosing to be clear about your company's direction in relation to what's happening in the dynamic environment.   Your strategic plan lays out where your organization is going and how it is going to get there.  Martin also writes about how we need to change people's thinking from needing to create a strategic plan to creating strategy.  Strategic planning is not about just creating a document.  It is about creating a strategy that will lead your organization forward.
If you are ready to take your strategic plan to the next level then really focusing in on your organization's strategy is the first step to take.  Your strategy should be quick, simple, and easily executed.  So the next time that you are getting ready to review your strategic plan, take the time to think about what the strategy of the organization is that will lay the foundation for the strategic plan.
---