The Truckee River is an alpine fed waterline that flows from Lake Tahoe, down the east slope of the Sierra Mountains, to a body of water called Pyramid Lake. From Lake Tahoe, the Truckee descends almost 2,000 feet into the relatively flat topography of the Truckee Meadows where Reno, Nevada is located.
In the early 1960s the river was re-engineered to a canal-like state through Reno's city center to better accommodate the urban grid. Gone were the natural buffers and holding areas that the river carved naturally through the meadow. Brick walls contained the flow to a straight stream through the heart of the city, but only for so long.
In response to unseasonably warm rainstorms in the middle of winter, the Sierra snowpack melted quickly on New Year's Day in January 1997. After roughly 30 years of being unnaturally contained, the Truckee River flooded downtown Reno in several feet of water. The impact was deep for the tourism industry, and the economy took a blow during what is normally a peak period.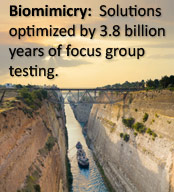 As far-fetched as it may sound, there is a moral to this story for organizations. Make sure your up-and-coming leaders are trained to best maintain a shoreline that resists erosion yet remains pliable to the strong currents of the environment your organization operates within. Business needs to ebb and flow with the current of the external environment. Boundaries must absorb and most importantly morph according to customer demand, regulatory edicts, competitor advances and technological innovation.
If your structure and processes have not changed in the past few years, you might want to ask yourself, why? If change initiatives are met with large-scale resistance, venture to the fringes of your organizational boundaries to make your case. If you find a brick wall, tear it down to allow your organization to see and feel what is happening on the other side.
Most importantly, be sure to promote those within your organization who can best navigate through the whitewater.
Do you have the right degree of organizational flexibility to change work-flows to match current needs?
---
All fields are required.