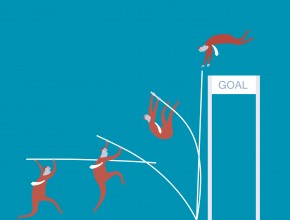 How will you win? It's a basic tenant of great organizational strategy. A lot of organizations know how to answer the question. They've been working the same strategic direction for years. For these teams, strategic planning is about refining the focus and getting better at execution.
But what if the answer doesn't come easy?
The answer to this question can be perplexing, and it's a struggle for many organizations. First, you need to understand where your organization fits so you can find a patch to call your own. No matter your organization type, you exist to help someone else fix, accomplish, or avoid something. Make sure you fundamentally understand exactly where you play before you try to answer how you'll win.
So, how will you win?
To help you break it into manageable, digestible chunks, we developed a three-phased approach called answer, order, and think. Here's how it works.
Answer these questions, which are like a three-legged stool:
What's your solution? This is your current and proposed portfolio. It's the best you have at solving the problem or opportunities associated with your products and services.
Who are your customers? Specifically, your ideal customer. It can be based on demographics, geography, or even psychographics, which for those of you not familiar with this term, it simply means the behavioral attributes of your ideal customer segmentation.
What are your channels of distribution? What will you use to get your solutions to your customers?
Now, it's time to order them based on your response
Building a great "how to win" strategy has to start somewhere. Between products and services, customers, or distribution channels, what is best understood by your organization? Which are you most familiar with?
Order the list above to correlate to your comfort level or expertise in each area. Most organizations will naturally answer any one of the three questions in more detail or with more passion than they do with the two others. Use this answer as the starting point for the next step.
Finally, think how it connects to the remaining two planning elements
Leading with what you're most comfortable with allows you to connect the dots more easily.
For example, if you choose to lead with your solutions, your organization may be an innovative provider of new solutions. Then, you might ask yourself who is going to buy my solutions (customers) and how they will find me (channels of distribution).
Or maybe you choose to lead with customers. If so, you might be an organization where customer intimacy is at the heart of your operation. Then ask yourself, with the ability to understand customers better than they understand themselves, what unique solutions can I offer and where will they be found?
If you lead with channels of distribution, you might be an organization of operational excellence with a very defined channel strategy. This limitation is also an opportunity to focus on your addressable market by extending product sell-through by positioning it against the right customer segment.
The short story is there's not a right answer. But this exercise might give you the opportunity to see how you can answer a few critical questions about your organization that could give you an answer to how you will win. Try each on for size – you'll find the one that fits best.
---