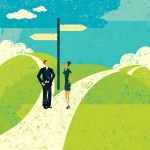 Strategic management is not for wimps. It's a process that shines spotlights on vulnerability and soft spots, but that is not where it ends. Strategic planning is a double-dog dare to do something about it.
This just might initially be the most difficult thing about moving through the strategic process. Less healthy organizations will see the flaws that exist, get defensive or compartmentalize them as an isolated department/leader issue, a.k.a. a "not my problem" situation.
Great organizations know that owning then addressing vulnerabilities and weaknesses will result in a stronger working group. They also know that big solutions usually can't happen overnight. This is the where the role of the 'small win' fits nicely, giving incremental rewards of support and motivation to keep morale high and perseverance intact wherever possible. ("The Power of Small Wins" by Teresa Amabile and Steven Kramer; Harvard Business Review, May 2011)
And make no mistake, being strategic is a paced marathon where rewards matter. Small wins can find double-duty here: They can fold into strategic execution while addressing weaknesses at the same time. Here are some "If/Then" ways to make it so:
If your weakness is a persistent ill-will between employee groups, then keep your eye on those goals that requires cross-functional support.
If your weakness hampers productivity, make sure you are measuring the improvement of beleaguered processes somewhere in your goals.
If your weakness is a lack of communication, then track goals upon participation and coordination of many.
When you see a goal that both meets the qualification of goal completion that ALSO overcomes a weakness, then it's time to give widespread recognition to the involved parties. With confidence you can then celebrate a small but mighty important marker of strategy in progress! Because collectively when it all adds up (and our efforts do add up to something, eventually), we all want something better for the future and that starts with what we work on today.
On this note, all of us at OnStrategy hope your tomorrow is full of thanks and splendid company. After all, it's the small things that can give us much pleasure in life, as the unlikely combination of cranberry and turkey prove true each and every 4th Thursday of November.
StrategyCheck
How brave can you be about your weaknesses?
---