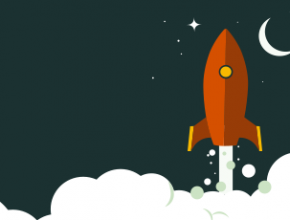 Let's face it. You're probably not happy with your organization's strategic planning process. And given the fact that it's already fall, and you're likely on a calendar year planning schedule, you're probably just about to kick off your 2016 strategic planning.
Your organization has been following the same process for years. It's familiar and predictable. The planning team knows the drill. So, why aren't you happy? Why isn't your planning team happy? Why aren't your employees happy? Because nothing really changes, does it? The culture is the same. Engagement is the same.  Performance is the same.
Are you ready for something new? It's time to do something that is memorable and perhaps will create the foundation for bringing about real, sustainable cultural change throughout your organization. Now try this:
Build your 2016 strategic plan off this one, simple question: What's the one thing we have to do to blow the doors off what's keeping you from accomplishing all the things you want to achieve? It doesn't matter who you are, what you do, or what makes you successful. Everyone has their one thing. It could be rooted somewhere in the people or processes, or be market-focused or customer-facing. What's the one thing that if you had it, would change everything?
Next, how would that one thing be measured? This becomes your North Star. It's the one metric your loyal and dedicated staff will use for guidance, sense-of-purpose, and accountability.
Now, what are the critical few things that have to happen to make that one big idea happen? Don't get crazy. We're talking about a critical few, which means less than a handful. These are the initiatives that are the must-do's for moving the needle on your core performance metric.  Sure, they'll be supported by their own metrics, goals, timelines, assigned ownership and action plans. But, the idea is there's a clean, simple, straightforward connection between the critical must-do's and the one, single must-have.
So, if you really want to change performance in 2016 and foster a culture of accountability, focus and engagement, start by envisioning the outcome. How would the actions and behaviors of your staff be different if you used this approach?
At OnStrategy, we recently did just this. We wouldn't be practitioners if we didn't practice what we preach. What changed? See for yourself during this short video.
We're not the only ones. We've helped other organizations do the same. By stripping down the strategic planning process to the core, supporting it with a critical few initiatives, and binding it by common metrics, staff will experience the end-state faster. The rigor and discipline supporting an organization-wide cadence of accountability isn't an elusive goal. It's something actually accomplished. By collapsing the time to achieve the end-state it becomes a competitive advantage – something that you, and only you, uniquely own.
WHAT WE'RE WATCHING
---