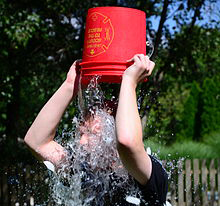 Has your newsfeed been feeling a little icy lately? Ours too.
The ALS Ice Bucket Challenge has been dumping on social media feeds for weeks now. For those of you who haven't seen it (which should be few and far between by now), users are challenged to dump a bucket of ice water on their heads or donate $100 to the ALS Association, a non-profit that provides assistance to people with Lou Gehrig's disease and research for its cure. After completing the challenge, they pass it on to selected friends and family move the challenge forward.
Everyone from Bill Gates to Lady Gaga has taken the icy plunge, making the foundation the topic of global discussion. They've received 22 million dollars and counting this quarter, crushing the mere 1.9 million in donations from the same period last year. For you math wizards, that's a 1,058% increase. Impressive.
There's lots of push-back online with complaints ranging from "that's a waste of fresh water" or "those people aren't even donating." Let me reiterate the 1,058% figure without even considering the brand awareness brought about by this social media phenomenon.
Beyond the actual impact it has made on the ALS Association, here's a list of takeaways you can use from the ice bucket challenge to invigorate your strategic planning and performance management efforts:
Fun messages are the best messages. Lou Gehrig's disease is pretty darn awful, yet the association made the message fun and with good intention. Good nature and fun tone gave this campaign the legs to become a viral sensation.
 It's about people and relationships. People were given the opportunity to tell the story and leverage the personal relationships they have. ALS didn't use social media, they used people; social media just happened to be the vehicle those people used to spread the message.
Start small to be big. This campaign started locally and small. Little by little, it grew. Organically. As in at no cost. As in completely free. Why? They didn't overstretch their reach and need to pay for advertising or publicity.
Whether you support the ice bucket challenge or not, these are still some important and applicable takeaways you can consider during day-to-day operations, strategic planning, or team leadership.
Here's Bill Gate's take on the Ice Bucket Challenge.
---