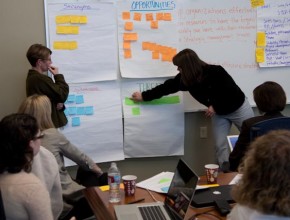 Finishing up this first week of February marks a time when most companies are just tying up their corporate retreats and strategic planning for the upcoming years.   These last few weeks on Twitter it seems as if everyone is coming or going from their organization's retreat where they have mapped out their company's strategic plan.  However, it is apparent that there is a gap between the retreat and the actual execution of the strategic plan.  So, what exactly can your organization do to keep their planning momentum going after their retreat?
Strategic Planning expert, Erica Olsen, tackled this issue in last month's Strategy Huddle.
How Do We Lose Momentum?
No progress
Not relevant
No WIIFM (what's in it for me?)
Canceling meetings
Feels like busy work
How To Keep Your Momentum:
Someone needs to own the process of strategic management in the organization
Need specific tasks & deliverables
Schedule you strategic update meeting right away (Making it from the retreat to the first update is where most people get lost)
Energy & focus
Need to motivate & inspire
Taking some of these thoughts/recommendations will help your organization execute your strategy and keep the planning momentum going after your retreat.
For more information on the latest Strategy Buzz and Other Resources, please visit us at our Resources Page.
---