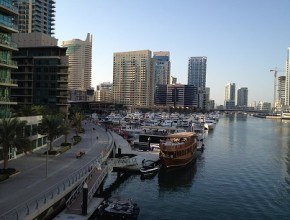 Strategic Planning Expert and Author Erica Olsen has been selected to conduct a two-day strategic planning conference in Dubai this month.
Reno, NV (PRWEB) May 14, 2009 — OnStrategy, the Internet's foremost source for strategic planning resources, announced this week that Erica Olsen, VP of Marketing and author of Strategic Planning for Dummies, will be traveling to Dubai next week to run a two day intensive on strategic planning. Participants, including executives from leading Middle Eastern companies, will receive training and practical applications in this course that runs from May 17 to May 18.
Olsen says that being invited to speak to businesses in Dubai was an exciting prospect. "So much progress is being made in the Middle East, and the center of this is Dubai." Conference organizers Gulf Business and Middle East MICE & Events reportedly contacted Olsen after discovering OnStrategy's online recession planning toolkit, Strategy on a Shoestring'. "Since the onset of the global financial crisis, companies around the world have been turning to strategic planning," says Olsen, "in order to shore up their own future." Olsen plans to unveil OnStrategy's newly revised comprehensive planning system at the event.
Conference sessions will be broken into four different strategy areas: financial strategies, operational strategies, market strategies and human capital strategies. According to Olsen, attendees at the conference are seasoned business people, looking to sharpen their already existing business strategies. "These companies already have mission and vision statements, so we won't be starting at the ground floor; these are companies interested in achieving the next level in their business."
Entertaining over 37 million tourists a year, Dubai is a city of constant evolution. Construction crews work 24 hours a day throughout the city to complete some of the world's most impressive and record-breaking high-rises and other achievements from giant island-type resorts to massive malls hosting actual black diamond ski slopes. In addition, Dubai is host to a thriving tech industry, sporting many top companies from the US and abroad.
About Erica Olsen:
Through OnStrategy's online client base and onsite strategic planning facilitation work, Erica Olsen has developed and reviewed hundreds of strategic plans for organizations across the country. She has also authored several strategic planning books including Strategic Planning for Dummies and was named Entrepreneur of the Year by The Business Report of Northern Nevada in 2007.
About OnStrategy:
OnStrategy is a strategic planning firm that works with growth-oriented organizations to develop and execute their strategic plans. In addition to their online strategic planning system, OnStrategy, the company is also a resource for other strategic planning tools, books, articles, workshops, and facilitations.
About Gulf Business and Middle East MICE & Events
Celebrating 10 years of publication, Gulf Business has remained the Middle Eastern region's premier English-language business magazine. Gulf Business's country reports, landmark features and incisive analysis of business news reflect the local market like no magazine has done before.
Middle East MICE & Events provides authoritative, informative and educational content for MICE bookers and event planners, hospitality industry professionals, venue managers, travel agents, airlines and government tourism departments, with regular features including destination reports, what's new, people on the move and advice such as getting the basics right, site inspections and planners check-list.
---