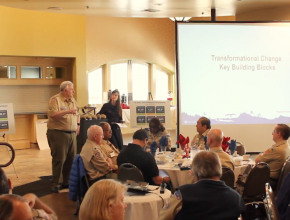 We've seen plenty of plans that have the "thud" factor – the notion that a strategic plan should be large enough to make a "thud" when you put it down on the table.
While it may seem counter intuitive, the best strategic plans are simple, yet unique. They're easily understood, actionable, and speak to the organization's unique strengths and weaknesses.
Instead of creating a massive plan, the Los Angeles Area Council of the Boy Scouts of America focused on "six big rocks" designed to engage their volunteer base to execute the actions that had the biggest impact for their council. Here's the impact their simple plan made:
A common language – Their plan was architected with simple language with clear actions that everyone could understand. Plus, their strategy reviews maintain a consistent structure using the same data sources and language structure.
Engaged volunteers – Using a unified language and structure allowed volunteers to truly engage with the material. Streamlined data sources and reporting structures allow them to fully participate and engage in the planning and performance management process.
Impact that matters – Their entire plan is dedicated to doing one thing – providing an outstanding Scouting experience to a growing membership sustainably. Focusing on the critical few instead of the trivial many allowed them to create a plan that directly impacts their community.
---