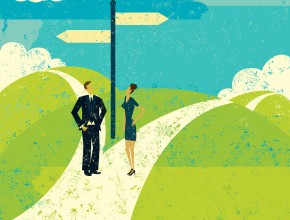 It is an election year, so we've all probably dodged our share of robo calls, thanks to the honed instincts given to us by telemarketers when the pollster's are off season. Thankfully after November 6th the need to avoid anything will disappear, and you'll be set to get your Strategic Plan in gear for 2013…Right?
Well if you aren't quite there, now is the time to make sure you approach the next year with a honed strategic sense of purpose and direction. Today we'll go step-by-step to identify the strategic planning process, as well as provide you with a checklist to ensure the climate is right to embark on this investment.
First the process, which is set up to be cyclical and continuous: The speed and frequency that you move through the strategic planning cycle is up to your organization.
Get Ready.
Make sure leaders are committed, that they are open to learning and responding to internal and external needs. In other words, they need to understand that the status quo is not an end state and purposeful change is a necessity. Lastly, align all expectations to the outcome expected of this effort.
Articulate Your Mission/Vision.
Make sure you have consensus on:

why your organization exists;
what are your values that are intrinsic to your organization (those characteristics that you don't have to try to attain); and
what your success "looks like." Nothing will fillet a planning session quicker than if key leaders aren't in agreement here.

Review Your Strategic Position.
Identify the information that must be collected to help you make sound decisions, ie) SWOT assessment, competitor analysis, environmental scans, etc. You don't have to have a ton of material, but you do need to understand where you are fully before you chart the course going forward.
Agree on Priorities.
Identify the broad approaches (aka strategies) for addressing critical issues and the long-term results that are optimal (or your objectives).
Organize and Roll Out the Plan.
Gather the pieces of your brainstorming and retreats into one document. Make sure you include a high level report to communicate the big strategic picture throughout your organization.
Identify your Next Actions.
Once the high-level plan is together in one document, it's time to determine what goals and actions are needed in all departments, for every team, and at all relevant staff levels.
Hold Everyone Accountable.
Monitor your plan by reporting performance on a monthly or quarterly basis. Make sure whatever process you choose fits within your existing rhythm of business. Manage those activities that are in need of guidance and remember to celebrate the milestones!
If you are on a calendar year, now is the time to identify your annual planning retreat according to the timing you establish with the strategic planning cycle. If you are not on a calendar year, the time to begin planning your retreat is approximately 8 weeks ahead of the event itself. This is usually enough time for proper gathering of information and scheduling.
By making strategy a habit that repeats itself, it becomes less of an event and more of a necessary exercise. Happy strategizing!
StrategyCheck
Are you avoiding the call to answer to 2013's strategic needs?
---