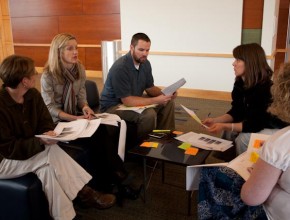 Whew! Well, if you've been following along, you saw that we at OnStrategy recently held our own strategic planning annual retreat. What an experience it was for me to lead my first facilitation with a room full of strategic planning consultants!
In guiding everyone through the process (a full eight hour day!) I not only lost probably 5 pounds, but I learned a lot of important lessons. Below I'll sum up how it went and what I came away with.
Make sure to have all of your materials ready the day before the retreat. My boss, Erica Olsen, always stresses the need to make sure that you print off all your documents, round up your resources and make your posters at least the day before you plan on facilitating. You may think that you could come in early the day of the retreat and finish something that you had to put off, but that never works, and will gaurantee that your printer will break, your markers will be missing, or your car will blow up. (ok that has never happened but you get the idea) Happily, I had everything ready and was well prepared- how great it was not to have to worry about that!
Make a clear agenda. We've all heard that when making a presentation you should "tell 'em what you're going to tell them, tell 'em what you're telling 'em, and then tell 'em what you told 'em." If you hadn't ever heard it, you just did- assuming you were reading it out loud. Having an agenda that specifically lays out the plans for the day gets everyone on track and answers questions so people can focus on the tasks at hand. Throughout the day, having a clear agenda allowed me to keep the group on track- and with a room full of big-picture thinkers what can be nearly impossible!
Ask questions that are designed to get feedback. You may think that everyone's got lot's of input on a particular subject, but if you ask your questions how you normally might, you're probably going to get one answer. Most of the time, we'll say "how do we solve this?" or "what do you want to see done about…" but those questions are designed for one answer. Try asking questions framed this way:

"What are some ways that…"
"What are some things that…"
"Let's get some suggestions about…"

Plan for wiggle room. Nothing goes exactly as planned. Make sure that you don't expect it to! Make your agenda and plan your day, but when a conversation goes longer than planned don't freak out- adjust the plan a little and let everyone know you'll have to wrap it up soon. But don't stop just in the name of timing if the group is really coming up with something great.
Know when everyone has reached their saturation point. After a day of planning, people are going to get tired. There's usually what I'd like to call the 2 O'clock Wall, or the Post-Food Coma. Watch out for that, and try to make sure that you have plenty of energy to get people going after lunch. Then, nearing the end of the day, know when to call it quits. I know you want to solve every situation your organization is facing, but once the group is done it's done. Be sensitive to information and contribution overload- you'll get way more out of them the next day or in a followup meeting set at a later date.
Well that's all I've got. It was a great experience and we developed some fantastic plans for 2009 and beyond. Good luck with your own retreats, and don't hesitate to contact us if you need more information!
---