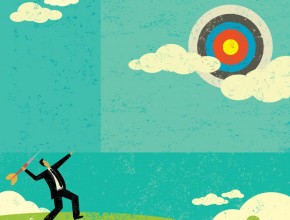 With a New Year quickly approaching it's time to review your organization's progress for the 2006 year. What goals did you set for the past year and how have you progressed towards those goals? The following blog post by Julie Poland takes a look back on 2006 and forward to planning for 2007.

2006 Goal Progress Check
by Julie Poland
http://worldaccordingtojulie.blogspot.com/2006/11/2006-goal-progress-check.html
It's November now, and high time to take a look at your progress relative to your goals for 2006. How are you doing? On a scale of 1-10, how satisfied are you with your results? Have you taken the action that you committed to do? Have you discovered unexpected obstacles or delays in the results that you expected?
Yes, the holidays are coming. I often hear that as a reason why things start to slow down or activity shuts down entirely once November rolls around. "Nobody wants to talk about new initiatives right now," or "Everyone is taking the weeks of vacation they didn't have time to take earlier in the year." Or, if you live in an outdoorsy spot like my area of Pennsylvania, "It's buck/doe/turkey/small game/flying squirrel/one-eyed blue coyote season."
If you choose to do so you have the opportunity to sprint for a few weeks to end your 2006 on an up note and set the stage for an outstanding first quarter of 2007. There ARE prospective clients out there who want to do the same thing, and you can help them. It might even be to their advantage from a tax perspective to work with you (translation: pay for your services) before their next accounting year begins.
How will 2007 be different from 2006 in terms of your performance? What will you do differently? Will the appearance of your business change? Will you continue to pursue your same line of strategic action? Have you updated your strategic plan, or created a formalized strategic plan of action for the first time? How do you intend to attain and sustain the laser focus that will catapult you to the next level of success? Even if you're satisfied or downright thrilled with this year's results, what do you want to do to sharpen the saw to prepare yourself for achieving even better results?
Success isn't necessarily a struggle unless you make it so. If you do the same things you've always done you'll get the same things you've always gotten. If you've pushed and pushed to no avail, read the sign on the door. It just might say "Pull." Take a look at your history in the bright light of day and see how your assumptions and habits might have been holding you back until now. Then change something. There's no time like the present – actually, there's no time BUT the present.
---