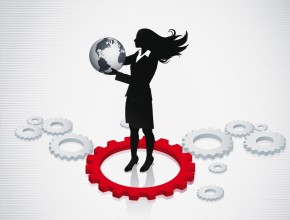 Over at Harvard Business's Conversation starter, there's a great article about Wikimedia's undertaking of the strategic planning process. You would think that an organization that built and supports Wikipedia- a free online encyclopedia that began as a modest effort to capture information and now boasts more than 3,ooo,ooo articles, would have to have been a product of a far-reaching strategy. Actually, no. This plan will be their first.
That's right. They got this far without a strategy- and now, they face the daunting task of creating one for their future. What different factors needed to be considered when crafting this plan? According to the HBC post, the following questions arose:
How to prioritize growth initiatives that involve reaching every single human being?
How to make ever increasing amounts of knowledge freely sharable? How to cultivate a healthy, growing and diverse community of contributors?
How to enhance quality of knowledge?
How to ensure Wikimedia has the resources and capabilities to sustain its work in perpetuity?
And what was their answer? The strategic planning team has taken a bold move. Because they're dealing with an encyclopedia that is user-edited, and open source- they decided there was one direction they could take this project. They're making the process as open-sourced as possible. Ultimately the community of Wikipedia users will guide and drive the process- and they are adopting the following core principles to guide them:
Anchor on the vision: Wikimedia has a powerful vision ("a world in which every single human being can freely share in the sum of all human knowledge") that serves as a touchstone for the strategy process
Do it the Wiki way: Open, transparent and evolving deliberations that trust in the constructive spirit of diverse volunteers to bring powerful expertise and perspective
Use the best of nonprofit strategy know-how: Drive dialogue and decisions from facts and rigorous analysis of options; Focus on the most critical decisions that will drive large scale impact; tackle questions that require "values" choices explicitly
Presume good faith: People are engaging with Wikimedia in the best spirit of volunteerism and contribution to social good and will act with the best motives
Learn and change: Try stuff, If it doesn't work stop, and try something else
Over the next several months, it will be interesting to see the course that this project will take. What do you think about this approach? Should they have taken it? Will they be successful? We can't wait to see what is learned from this unique and innovative technique.
---