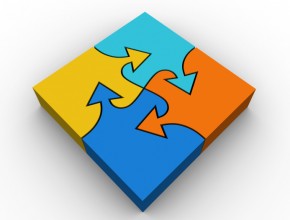 The Wall Street Journal published an article last week titled "Strategic Plans Lose Favor." Our commentary about the article's main point – that CEO's want strategic plans to help them make decisions, not to be static – is below. We'd love to hear your thoughts!
Being Strategic is a process, not rigid set of parameters that hamstring organizations. Contrary to the article, no plan can pretend to "predict the future", and any decent consultant knows assigning rigidity to a strategic plan is a death blow. However, there are trappings that traditional strategic plans suffer: they aren't incorporated into regular management reviews, they undergo versioning that does not get properly distributed, or they are not tied into budgetary decisions that must take place… therefore becoming quickly irrelevant.
Strategic plans that have molted away from the trappings of being shelved more than referenced. Success with Strategic Plans comes though a better managed process that is reviewed timely to the specific needs of industry realities. Those that have no direction will never know where they are going.
Leaders should be driving the right strategy with equal effort on execution. Not thinking about strategic planning as a deliverable or an event. Strategy and execution needs to be an agile and adaptive business process. Otherwise this highly valued management tool is irrelevant.
---