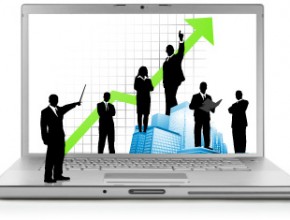 Secure your investment by setting in place the three keys to strategic implementation
Once you have a strategic plan in place, a powerful tool to monitor your progress and communicate company direction is performance management software, like OnStrategy's implementation module. Before you choose a system for managing performance, it is important to make sure that you'll get the most out of it. In order to make the most of your software, you'll need to avoid some common strategy pitfalls by putting in place some time-honored business practices.
The hard truth: without proper management, your performance management software could become just another program on your desktop
Many businesses, even those with well-made plans, fail to implement their strategy. Their problem lies in ineffectively managing their employees once their plan is in place. Sure, they've conducted surveys, collected data, gone on management retreats to decide on their organization's direction- even purchased expensive software to manage their process- but somewhere their plan falls apart.
Expensive performance management software does not ensure success: Implementation of your plan depends on solid accountability
Accountability is key to successful implementation of your business strategy— hands down. If you and your team don't have to report to anyone on your progress, the plan may find itself further and further down your to-do list or at the bottom of your stacks of paper. You don't need an elaborate accountability system, but you do need something.
Before you purchase software to manage your organization's performance, make sure you set in place these 3 keys to implementation:
With the right manager, the right rewards and the right coaching, performance management software can be the most powerful tool for making sure your plan becomes a reality.
>> Continue reading with Step One: Appointing a Strategic Plan Manager
---