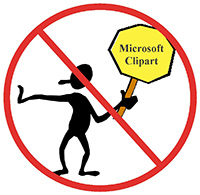 Microsoft's Clip Art is to PowerPoints as iPhone is to iTunes. They've lived together in harmony for as long as each has existed. But, Microsoft announced last month that they'd be closing shop on the infamous Clip Art gallery and replacing it with Bing's Image Search instead.
What a huge breath of relief.
A couple of months ago, we wrote a post about how to make PowerPoints suck less. Every time we see one of those dated, third-grade level clip art images used in a professional presentation, a little piece of us dies inside. It's important to make your presentations dynamic and engaging, but you cross a line when you put that clip-art image of a lightbulb from 1998 to represent an idea.
However, it isn't just a move we like for presentations. It's a wise business decision for Microsoft.
It's no secret that Google dominates the search engine game. It's also no secret that Microsoft provides the backbone in operating systems and productivity software in today's business world. By hard lining Microsoft's Bing Image search right into their productivity software, they're putting their search engine platform directly in the hands of their current software user base.
Here are the 3 reasons Microsoft will win from this move:
It streamlines the user experience. By adding Bing straight into the software, you get to skip a step copying and pasting images from the Internet.
There's a benefit and incentive to their customers to use this new feature. Rather than trying to force market-share by using traditional paid advertising or promotions, Microsoft leveraged their current position to introduce a different product.
People who ditched Clip Art years ago have been using Google Image search for presentation images anyway. Like we said, we don't particularly care for the older like clip-art. Not only have they acknowledged the elephant in the room, they gave it peanuts.
So with that, bid clip-art farewell. It now joins the paperclip in the Microsoft retirement home. Now all that needs to go is Comic Sans.
---