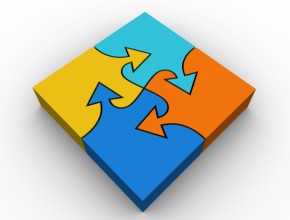 A few weeks back, I saw this comment on Twitter and it piqued my interest.
Poster X: Our industry doesn't lend themselves to strategic planning. We need to have the freedom to react to an environment that is constantly changing.
Let's not fall into this trap! Strategic planning is so much more than this. This poster seems to be caught in the old belief that strategic planning is a rigid process that places your company in concrete boots or a plan can't be changed once it's created.
As we all know, strategic planning is not an event, it is a process. I would argue that a well-executed strategic plan allows for greater freedom and great assurance in today's changing environment. It isn't just about creating a strategic plan, the difference will be made in executing strategy and building a culture of strategy.
To avoid creating a lengthy blog post, here are three data points that I think apply here.
1. A good strategic plan allows for better decision making and quicker decisions making: Good Decisions Improve Financial Results: Companies that excel in decision making generate average total shareholder returns nearly 6 percentage points higher than those of other companies. – "Decide & Deliver: 5 Steps to Breakthrough Performance in Your Organization," Bain & Company by Marcia W. Blanko, Michael C. Mankins, and Paul Rogers
2. Without the focus that a strategic plan can provide, we can all fall into the trap of unproductive busyness. 90% of managers are typically either distracted or disengaged from key organizational objectives. "Confusing frenetic motion with constructive action," they are noted for their "unproductive busyness. – "Closing the Individual Productivity Gap: Putting First Things First," Franklin Covey via "Beware the Busy Manager," Harvard Business Review by Bruch, H. and Ghoshal, S., Feb 2002
3. A strong organizational focus benefits all companies in all industries. Downturns are roller coasters for weak firms: 3x to 5x. During downturns, weaker businesses are the shock absorbers of their industries – their margin swings are often three to five times that of the leader. That gives companies with strong, focused cores the opportunity to invest and gain ground on their competitors during the downturn and the subsequent recovery. – "Global Strategy Practice: Profit from the Core: A Return to Growth in Turbulent Times," Bain & Company, February 2010 by Chris Zook and James G. Allen
---