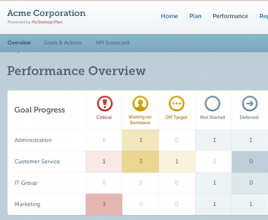 Inspiration for greatness comes from improving customers' lives. For us at OnStrategy, that usually means pulling the complexity out of strategic planning, offering crystallized paths forward and making the focus something that results in long-term intentional success.
OnStrategy is the manifestation of our inspiration to make strategy accessible and agile for organizations. It is a cloud-based, software as a service (SaaS) product, and one thing that "the cloud" has accelerated is an array of advancements and user functionality that simply were not feasible five years ago.
In the upcoming weeks users of OnStrategy will see integration of major enhancements that help make an organization's strategic activity vastly easier to communicate and manage. While we will correspondingly launch a web tutorial on these improvements, here is a list of what can be expected for existing users:
Site-wide socialization of new goals, changes to goals and progress milestones
Streamlined design offer a user interface that is intuitive and guiding
Straightforward ways to prioritize goals, estimate budgets and set key performance indicators
Implementation calendar that will automate notifications on what needs to occur before key strategic meetings are held

New users to OnStrategy will have step-by-step flows, checklists and progress bars as a guide to finalizing their strategic planning process. Once strategies are finalized, users will also benefit from the "you-centric" homepage that offers all achievements and summaries for goals to help manage performance from the moment they log-on.

"This software is built from the intelligence of our users and the standards of excellence that exist in the SaaS marketplace," states OnStrategy COO Erica Olsen. "We bridged the two with strong adherence to the strategic planning process and the result of our work is an elevation of both agility and thoroughness when it comes to making strategy work."

OnStrategy is set to unveil OnStrategy 3.0 to our customer base within the next couple weeks. Get a sneak peak here on how we revitalized the core of our product.
StrategyCheck
Do you have value to accelerate to the market?
---