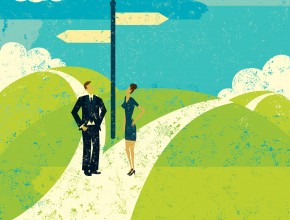 How to get no-cost exposure on the Web
By the time you finish reading this, three internet start-ups will be developed to help you find new customers. OK, that's a made up number, but it illustrates something you need to be aware of: while the economy may be taking a dump, you can turn to the web to strategically market yourself for almost nothing- and it's only getting better.
Three things make the web the best place to strategically market in a downturn:  the virtually unlimited flow of instant information, the almost non-existing barriers to entry, and it's just really, really, cool. Because of these factors, the last few years have seen a massive explosion of online companies solving problems and breaking down the walls between people across the globe. Now, it's possible online to connect, for free, with your customers in ways we never would have conceived just a year or two ago.
With the rise of what has been called Web 2.0, users have come to demand two things: that web applications increase their ability to communicate and connect, and that they be (at least mostly) free. That's why we've dubbed this the "Free Market(ing) Society." There's a mind-boggling bevy of tools on the web that are created just for marketing yourself- and you can start using them right away.
Actually, free may be a little misleading- you do need to invest time and energy into performing these actions and staying on top of new opportunities that arise, BUT when compared to the costs of paid advertising or managing a sales force, well, you get the picture. We've rounded up three "free" marketing areas that you can't afford to miss.
SEO and Usability: First, Get your House in Order
Before you go looking for customers on the web, you need to make sure your website is configured correctly. The following are three areas that cost only your time, but the return on investment in the form of traffic and sales can be astronomically higher than traditional advertising.
SEO 101
The first thing you need to look at is search engine optimization. Basically, is your website coded in a way that makes it easily indexed by Google and the rest of them? Have you taken the time to research what people are searching for and made sure to add those keywords to the copy on your site? Here's a few tips to get in shape. Examples of places to look are:
Code: make sure you use items like headers (h1, h2, h3) and meta-tags, title-tags and the like correctly. There's TONS of information on the web for this.
Images and Video: Search engines are looking for more than text, use relevant pictures and movies on your site and make sure they're tagged correctly as well.
Sitemaps: Have them. Submit them to engines. Again, there's lots of info out there.
Keywords: What keywords do you want/need to rank number one for? If you're not thinking about this, you need to evaluate why you have a website.
To be more in depth, research some basic "textbook SEO" like this. For more advanced info, go to www.seomoz.com
Web Analytics
Once people arrive at your site, are they doing what you want? Are they buying your products? Are they signing up for your newsletter? And more importantly, what percentage of them are? And even more important than that– how do you raise that percentage? That, in a nutshell, is what web analytics is concerned with. Assign someone to dive into your analytics and examine where you can improve- the return that you get can far outweigh the investment. A fantastic free web analytics tool is Google Analytics. All you need is a free Google account and a few minutes to get set up.
Usability
What kind of experience greets your visitors? Do you have an intuitive navigational structure, or do people get lost trying to find what they're most interested in? Put simply, do people enjoy using your site and find what they're looking for quickly? Usability improvements can bring about on average an 80% increase in effectiveness of your website. Again, the return on investment make this seem nearly free in comparison to traditional advertising. A great resource on website usability is Jakob Neilson's site. Use-it.com.
Ok, enough boring talk about your site- let's get to the free stuff.
Blogs: Customer Conversations and Internet Exposure for "Free"
In the last few years, we've seen blog usage grow exponentially. One impact that this has had on commerce is that people now expect businesses to communicate and connect with them online. Gone are the days that you could ignore the internet- now people want somewhere they can talk to you and hear what's going on.
If that's not enough to convince you to blog, know this: bloggers are influencers. What they say matters, and the best way to have them talk about you is to have a blog yourself. They cost nothing or next to nothing to get started with and only take your time, but the benefits can be astounding.
Besides giving you a mode of contact, by collecting all that you say about your business and industry, blogs become a repository of useful information that's packed with your relevant keywords- thus improving both the search friendliness of your site and its usefulness.
The best advice we have is just to get started. Everyone's got advice on the subject of blogging, but you won't really know if you have the time and passion to maintain one unless you set one up and start writing. Free blogging sources like www.wordpress.org and www.blogger.com are easy to set up and customize, and if you need design work done the web is teeming with resources. Great sites for info on how to blog are www.problogger.com and www.copyblogger.com.
Social Media: Free Marketing with Wild Potential
The rise of social media has been covered extensively in the news, but many businesses still haven't utilized them. This makes no sense- these sites are not only completely free advertising and conduits for engaging your customer base, but if used correctly can manage to bring tens of thousands of visitors to your site. These days, the list of social media sites that you could use is about as long as your imagination, but here are a few.
Professional Resources
These are sites where individuals can build a professional profile and connect with others, ask questions and basically build a network.
Bookmarking and News
These sites list important or interesting links. By producing content on your site that their users find interesting, companies can see tremendous amounts of visitors. To begin, just set up a profile and find out what the community finds interesting.
Social Sites
These sites may not seem like professional spaces for your company to be navigating, but your customers may be on them just waiting to be engaged. Build a profile and give them a place to find you.
Forums
These are industry specific in most cases, but by participating on forums that are relevant to your business you can connect with your customers, hear their opinions and concerns and build their trust and affinity for your organization.
For an extensive list, check out 50 Social Sites that Every Business Needs a Presence On
---