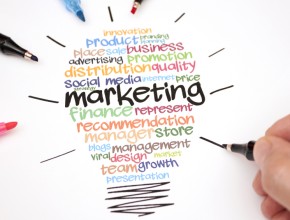 Complexity is all around us, and it doesn't help that most of us are guilty of multitasking ourselves into some degree of inefficiency. A recent Harvard Business Review blog cites that it can take 25% longer to complete a task when you are pulled away from the work.
So what is pulling our attention left, right, up, down, and every which way? Beyond typical personal distractions, there are legitimate reasons as well. Shorter product cycles drive more frequent competitor offerings. Being reactionary begins to seem normal with the increased speed of doing business.
For companies that maintain their market advantages longer, however, the ability to clearly communicate the key objectives of a long-term strategy is an ongoing necessity.
We've beat this drum before, but today we'd like to offer some creative approaches that go well beyond pie chart or process flow diagrams to support organization-wide awareness about your strategy.
Use engaging Infographics. Employ imagery that brings personality to your brand and meaning to your strategic vision. For one of our clients, Video Game Technologies, we optimized the fun of their product as it is experienced by the end user to communicate their values and key objectives (view the graphic to the right). Post the infographic where people meet or take breaks to keep your strategy front and center.
Interview your customers and share their perspective. This is an extremely effective way to motivate the front line and tie real-world scenarios to the objectives of the customer-focused components of your strategy. People empathize with the experiences of others. Most of us want to be a part of the solution when we see something done wrong. Correspondingly, most of us want to perform on par with the things that are being done right. So take the good with the bad and share the experiences with everyone.
Celebrate, capture & promote. Small wins are the way big, complex objectives gain steam. Identifying milestones along any strategic journey gives people a sense of momentum, which is critically important for those Big, Hairy, Audacious Goals (BHAGs). Rally the troops, eat your cake (or pizza), take some pictures of the festivities and share them with a flyer posted next to your infographic to commemorate the event. Super easy to do, and it acts as a visual reminder that executing strategy is not as difficult as it sounds.
In all, make sure you see your principles represented in what is being disseminated, but resist the urge to overly control the message. This is the difference between what goes viral on the internet and what gets logged as another tidbit of blatant internal branding. There's something refreshing about seeing organic emotions and experiences intersect with organizational strategy. It's about telling a compelling story that makes you want to see a happy ending.
StrategyCheck
Are you doing all you can to communicate your strategy?
---