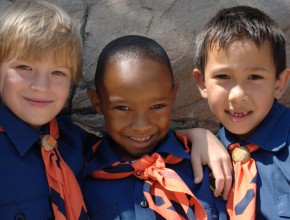 We have recently taken on a new client at OnStrategy, the Boy Scouts of America (BSA).  We took part in a nationwide call this morning to conduct a forum style discussion on the new approach that the BSA is taking as they come up on their 100th anniversary.  The BSA and OnStrategy have worked together for the last few months to create an online tool and supporting resources to take the councils to a higher level with cutting edge tools.  It was interesting to listen to the discussions between the senior executives, the in-house strategic planning leadership, and the individual council leadership.
The BSA has in the past done what many non-profit organizations have done and that is just follow the same steps in creating their strategic plan each year, focusing on the areas that are of most interest to them and checking a box that it is complete.  What they weren't doing was taking an objective look at the national or council level to determine where they should really be focusing their attention.  With our assistance, they have developed a Business Report Card survey, based on the Balanced Scorecard from Harvard, for their key stakeholders and volunteers to take.  This survey is designed to give each council a more comprehensive view of where their strengths and weaknesses are, so they can see what areas they really need to focus their attention on to achieve success.  As Howard Olsen, of OnStrategy, said, "It is a health check for the councils."
One of the areas that everyone on the call was in agreement on was that the BSA needed to get more buy-in from the volunteers if they were going to move forward and face the challenges of the next 100 years.  With the use of MyCouncilPlan, created by OnStrategy, each council will be able to create a strategic plan with cascading goals that show each volunteer how their small part contributes to the overall success of the council.  As an online tool, MyCouncilPlan will allow volunteers the ability to follow the progress of the plan at any time without having to contact the council office as well as force accountability as it sends reminders to each person about their responsibilities and requires them to update their progress on a regular basis.
As Gary Butler, BSA Assistant Chief Executive / Council Operations said at the end of the call, "It is an exciting time for the Boy Scouts of America."
---