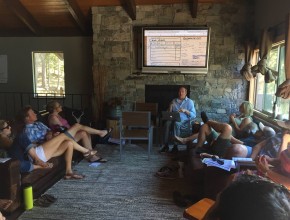 Our ever-growing team was fortunate to gather under one roof in the South Shore of Lake Tahoe to roll-up our sleeves, work on our plan, and spend some time in the beautiful outdoors. Together we:
Took some time to update our plan. There should be no surprise a group of planning experts stay vigilant to the planning process. It was fun [and challenging] to facilitate our own planning session.
Reveal prototypes for the next generation of OnStrategy. Our development team gave us a preview into the coming update to the platform. Spoiler – it's an exciting improvement to user workflows.
Learn about each other's thinking styles. We used our team member Emergenetics to learn about our individual thinking style and social interaction tendencies. It was enlightening and valuable in understanding how to communicate amongst ourselves.
Enjoy the beach, which is a must in Tahoe. We're a group of sun-lovers, so the beach played a huge roll in our retreat. We held guided mediation in the warm morning sun and spent the late afternoons kayaking and swimming in Tahoe's crystal-clear water.
It was a productive few days in Tahoe and we're back in the office excited about the future of our application and the impact it makes in the business of our clients.