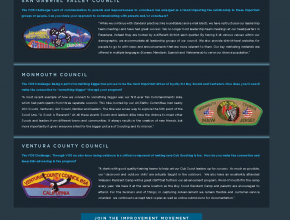 When it comes to relationship management, generally organizations fall somewhere along a spectrum of customer engagement. There are those that wing it and address customer concerns only when something goes bad; and there are those that capture customer experiences for integration into the personnel reviews, operations, policy and strategy.
Any leader worthy of the title knows that customer feedback is critical. Yet high functioning customer engagement usually has some cultural hurdles to clear before becoming effective. The initial challenge involves transforming customer opinions into information, then information into insight, then insight into action.
This can require bringing hundreds, thousands or even millions of data points together in a way that makes sense for key staff, managers and executives: The majority of whom are not statisticians. They need information that resonates with the culture of the organization they serve, and it must be delivered in a way that makes it as easy as possible to absorb.
To increase the chance that customer feedback provides information and insight your organization needs, consider the following when producing and delivering reports and analysis:
Vet the findings first: Have reports, infographics, etc. internally reviewed by a diverse team that understands the culture of the organization, yet is also made up of members who are bold enough to allow the data to be critiqued wherever necessary. No matter how powerful or pure the data seems, if it can't be woven into the organization's DNA it won't be used.
Design to share: While single-spaced word documents may demonstrate the richness of the data, customer findings are better presented in a way that encourages sharing. Effectively segmented and designed slides that isolate key topics are more effective for raising awareness about the customer perspective in meetings, webinars and other multiple participant forums.
Spotlight key findings: At the highest level, customer feedback tells us a story. Develop collateral that elevates the most critical, salient points that will drive customer experiences to the forefront of awareness levels. Infographics and storyboards are extremely effective here, providing something interesting to look at that also reinforces messaging. Distribute widely at conferences and events, display in common-use locations or socialize on intranets for maximum impact.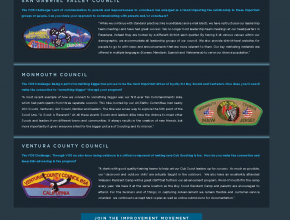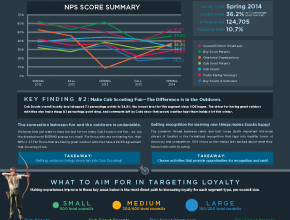 Examples of infographics designed by OnStrategy for Boy Scouts of America.
After all, finding ways to serve people better are the reason most organizations exist. Collecting customer feedback is only a start. Understanding customers in a way that allows you to serve them better over time is a gift—if used right, it leads to long-term customer relationships and more predictable success levels. Be a gracious recipient by allowing customer perspectives to serve as a passport away from email inboxes, stresses of processes, and the general noise of the day that tends to clutter thoughts. Leverage customer data to be the beckon it should be.
---