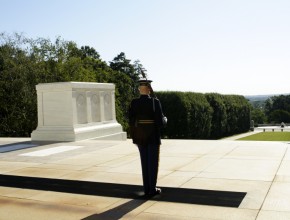 Time has a way of bringing the past back to us. For tens of thousands of military service members, this Memorial Day will come with reverence for those who have fought by their side, but never made it home.
It will be decades before we fully understand the impact of our engagements in Afghanistan or Iraq. In the meanwhile these wars will be scrutinized, categorized and ultimately filed away for study in the annals of history. In this way, the conflicts become somewhat sterilized and divorced from the impact made on the people involved. For veteran George Wilson however, his WWII experience was reborn in the spring of 2010 when he received an unexpected letter from overseas. It took him back 55 years to battles he fought in the Netherlands and into the present-day graces of a woman, Ms. Kohler, from Heerenberg. In her letter, she thanked him for what he did, his courage and the "beautiful gift of freedom" she has enjoyed since those days in which her country became liberated from Germany. Despite his reply of having a small contribution compared to those who gave their life, she would have none of it. Kohler wrote, "I am touched by your modesty, but would like to share my thoughts on that. Those that survived had to carry a heavy burden when they returned home, so in my view no part was ever small. The effect of all combined contributions meant freedom for the people in our country, any contribution to that is immeasurably important."
In her final correspondence to Wilson, she agreed to have her letters be shared, to help convey some of the gratitude she still feels for the sacrifices that secured her country's freedom. So in this spirit, we offer her letters here in perspective of the influence every individual has, even when we think our effort is marginal in comparison to larger forces. While WWII seems very long ago, the memories of those who have died on behalf of our Country (then and in conflicts since) continue to burn into hearts and minds of those who loved them. we stand alongside them in honoring their memories.
Now is also a good time to quietly remind ourselves that nothing we do is too small to help, just as it was never too late for Ms. Kohler to express her gratitude to an unknown soldier five decades later.
StrategyCheck
In remembrance, we are taking a break from strategy this week. We hope you will join us in honoring veterans.
---