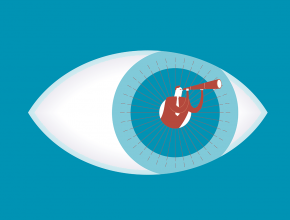 Great, holistic strategic plans aren't built from upper management – they're built on a foundation of feedback and input from your entire organization. But, honest and actionable feedback can only be collected when you create a sense of openness, honestly, and safety during the planning process. Doing so requires the all-in involvement of your executives, management, and front-line staff members.
Depending on your organization's size or type, you can take several different approaches to soliciting input from management and staff. These include:
One-on-one: You'll get a very personal interaction with each individual, which allows their unique voice to be heard.
Team meetings: Team meetings can help you identify unique departmental themes that might not otherwise surface.
Organization-wide meetings: Gathering everyone together puts your entire organization's perspective in plain sight.
Surveys: Surveys are great for asking tough questions with completely anonymous responses.
Regardless of the vehicles, fostering a safe, nonjudgmental environment is important. Opinions need to be kept confidential, and if using a survey, they should be kept anonymous. We all know planning can be uncomfortable, especially when the hard-hitting questions are asked. The strategic planning process explores the opportunities, threats, strengths, and weaknesses of your organization. If you want genuine feedback, you need to hear people out. Here are a couple of ways you can ensure you get the feedback you need:
Keep insight confidential: Take the necessary steps to make sure feedback can never be traced back to the individual.
Don't broadcast one-off comments that can be taken out of context: Sometimes, feedback won't tell you what you want to hear. Resist the urge to make comments that would make your team feel uncomfortable about giving feedback in the future.
Stay honest with what you hear: Don't editorialize and misshape it into something you want to hear.
Build responses into themes: Positioning responses as "themes" is less threatening than presenting them as individual responses.
People want their voices heard, their insights and experiences recognized. Creating a safe environment for people to express themselves will strengthen engagement, openness, and a willingness to contribute to the good of the organization.
Above all else, don't react. Instead, take the time to thoughtfully respond. While it sounds simple and elementary, staying level headed during this process can give you the foundation you need to build a plan that tackles your organization's strategic issues. Without it, your plan will crumble before you even have a chance to build it.
---