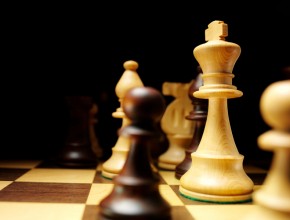 Ancient navigators relied upon triangulation for orientation. People sailed thousands of miles thousands of years ago measuring only with daylight, stars and currents. Take one of those elements away and Hawaii might have been an unpopulated island when Captain Cook first arrived (which would have been better for him, but that's another story).
Fast-forward to discovering better ways to navigate your business today. With the following three key people to formally support strategic execution, we believe organizations have a much better chance of seeing their strategies come to fruition.
The Strategy Champion
Every organization needs people who are farsighted in their support of an idea. All strategic plans need to be championed by someone who has a conviction that goes beyond promotion of planning. Strategic champions connect with the concept that today's efforts can collectively be harnessed to position a company toward a more confident position in the future marketplace. Strategy champions are guides. Their efforts position companies to trudge through the muck of the recession; aiming to gain firmer ground in the most direct way possible. In this manner, strategic companies exercise full stride at the earliest opportunity, resulting in a purposefully constructed competitive advantage.
The Strategy Endorser
It is optimal to ensure your organization's strategy champions have executive-level influence, such as a CEO (business), director (non-profit) or Mayor (municipality). It is critical to ensure that the person at the helm gives full endorsement to the need and function of the strategic plan from assessment to execution. Strategic plans by design acknowledge change, and for some who might resist (and there's always people that resist), a clear directive from the top will help pull the plan through the rough spots in strategic execution.
The Strategy Administrator
Administrators are the engines of an organization. Strategic plan administration serves the same purpose. Administrators are key for maintenance and upkeep of your plan. To ensure a strategic plan does not become a time albatross, make sure the system in which you manage the plan can be updated quickly, referenced easily and is centrally shared. It is particularly helpful to automate the process as much as possible. For example, having report templates that are produced without difficulty will make strategy review sessions a much less burdensome occurrence.
The take-away: Provide proper guidance for your strategic plan to make your journey a professionally driven endeavor. Without the three roles above fulfilled, strategic plans quickly turn into a misadventure in planes, trains and automobiles… that doesn't have to be your experience!
StrategyCheck
Do you have the right people supporting your strategic plan?
---