We understand the biggest challenge as a leader right now is creating stability out of chaos.
The OnStrategy Team is happy to announce app upgrades that will help you do just that.
The seismic shift we are all experiencing demands that we shift, too. We're excited to roll out substantial app feature upgrades to enable you and your team to adapt faster by keeping short-term performance connected to your long-term vision every day.
Overview Video
Quick Links
#1 Setting Your Goals – Faster, Easier, Quarterly
We have substantially improved the process for setting goals. We've created a new guided process to build a goal. Additionally, we've added functionality to clone goals!
Add Goals Using the Plus Sign
You can add a goal by clicking on the plus icon. Then, follow the easy steps to build a goal.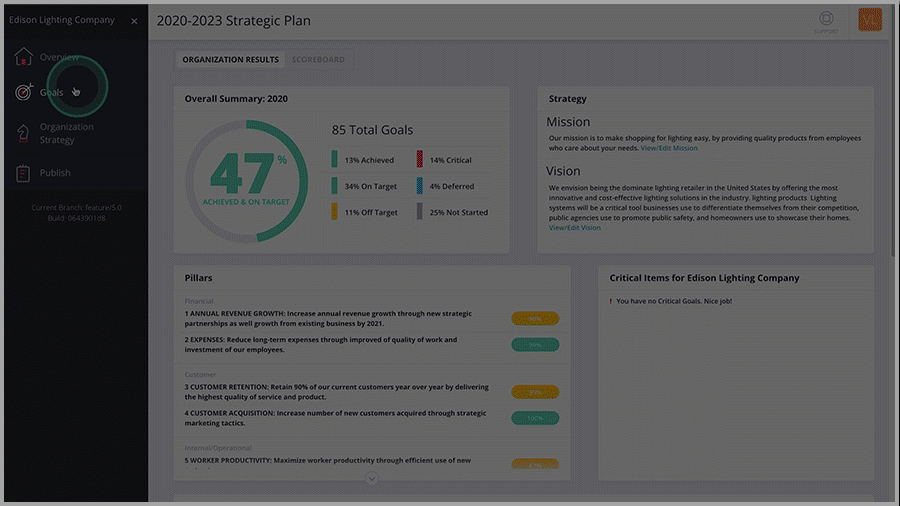 Add Goals from the All Goals Page
You can also add a goal on the All Goals page. Find a goal for which you would like to add a supporting child goal, click the three-dot menu in the right-hand column. Select, "Add Child" and follow the prompts to create a goal.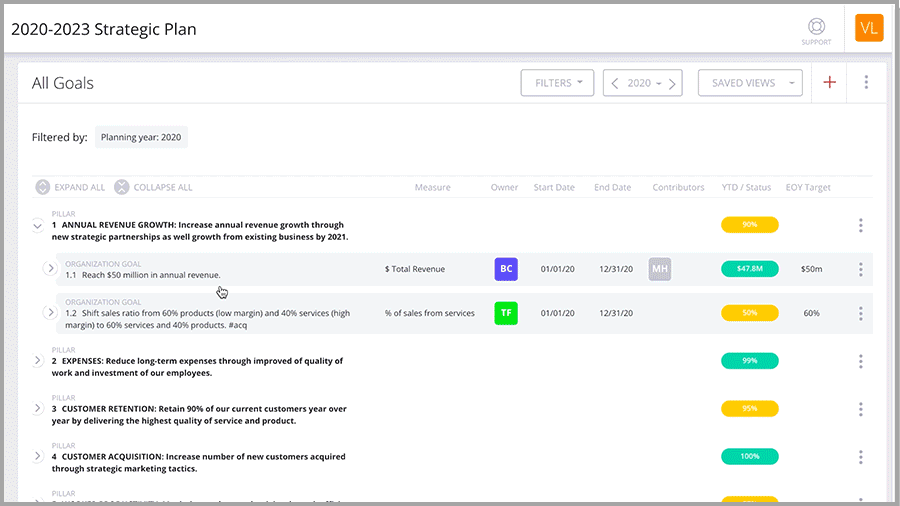 Clone Goals
You can now clone existing goals! On the All Goals page, find the goal you would like to clone. Click the three-dot menu in the right-hand column. Select, "Clone" and follow the prompts to clone the goal.

#2 – Easier Results Reporting — 1:1s and Strategy Reviews
It's never been easier to update your results and have clear visibility into the performance of your plan. We've created a new Check-In modal to fly through performance updates in a single view, added automation for OKR reporting, and combined all of your goals and KPIs into a single view on first login.
Multi Goal Check-In
We've revamped the process to update and see your results. With our Check-In modal, you can fly through performance reporting in a single view. If any of your goals need a check-in, click the Check-In icon in the top right-hand navigation. Follow the prompts to quickly update your goals.

My Results Overview
We've created a new view on the Overview Homepage. In the, "My Results" tab, you can see:
The summary performance of your goals.
Shortcuts to download your 1:1 action plans, links to review your plan's data, and links to update your goals.
A list of your goals and their current status.
Your critical goals that need attention.
Company KPIs that you own.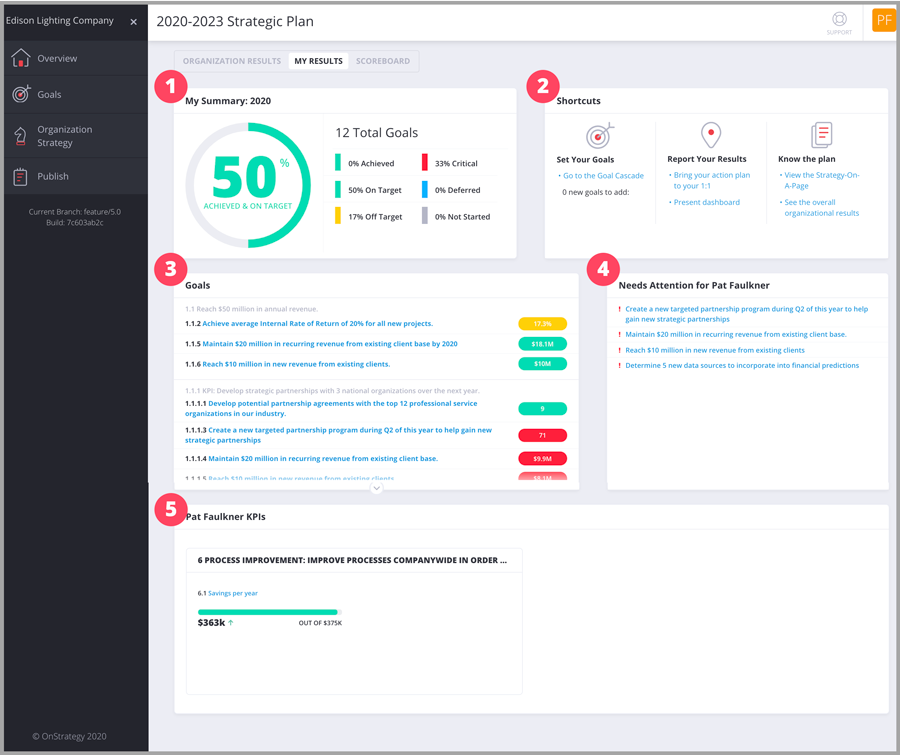 Simplified Goal Management
We've completely revamped the process for editing a goal. Now, you can edit and view all of a goal's details in a single screen. This includes:
The Item Details, including goal owner, duration, measure, contributors, priority level, and budget.
Performance Chart, which shows current performance against your target.
Reporting Details, including how often you report, calculation, target direction, target type, and data source.
Performance Data, including your actuals, targets, and auto-status settings.
A list of the recent activity.
Comments, which are now discreet and automatically date-stamped!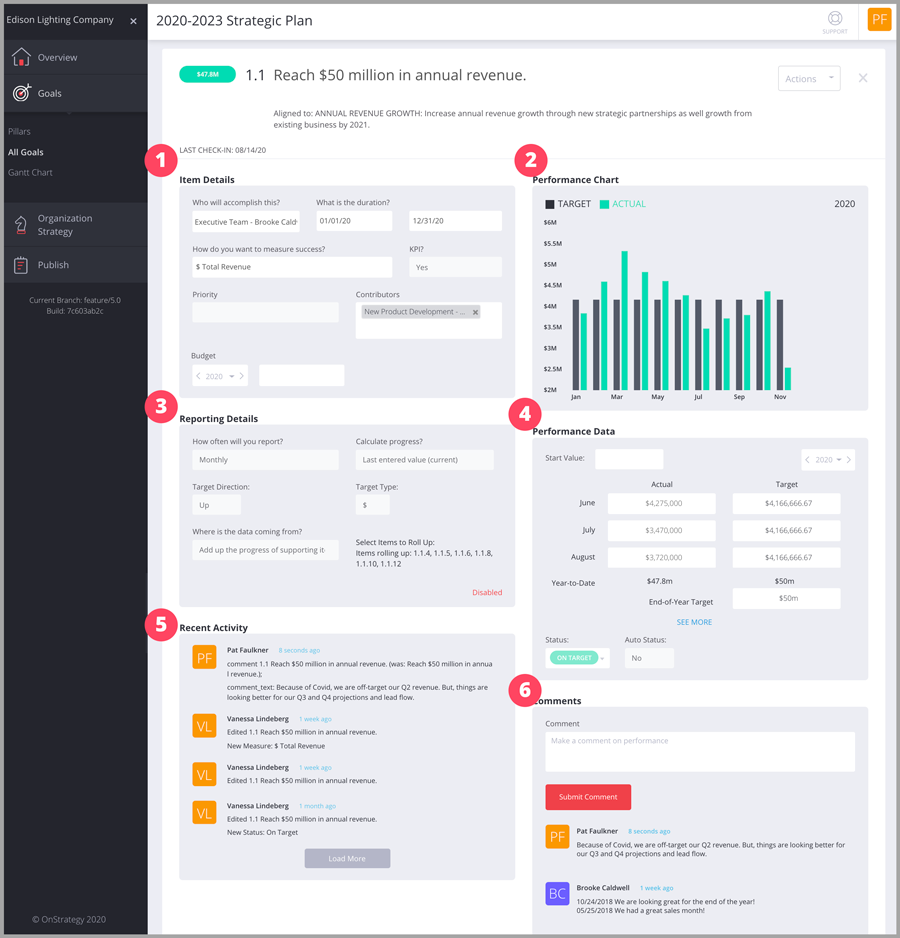 Automated Calculations
OnStrategy has added additional functionality for automated reporting! Objectives can now be updated automatically based on the performance of aligned Key Results. Reporting can be adjusted by clicking on a goal, scrolling down to its Reporting Detail, and selecting where you'd like the data to come from. Options include:
Entering data manually.
Adding up the progress of children goals with the same measure. An example: adding up revenue targets across divisions to a parent goal.
Averaging the progress of children goals with the same measure. An example: calculating an average for goals measuring error rates or satisfaction.
Converting progress of children goals with different measures to percentage; a much-requested feature that allows you to create a calculation for a parent goal's progress when the children goals don't have the same measure type.
****When using automation for adding, averaging, or converting progress to calculate the status of a parent goal, use the gear icon to select which children goals are used in the calculation.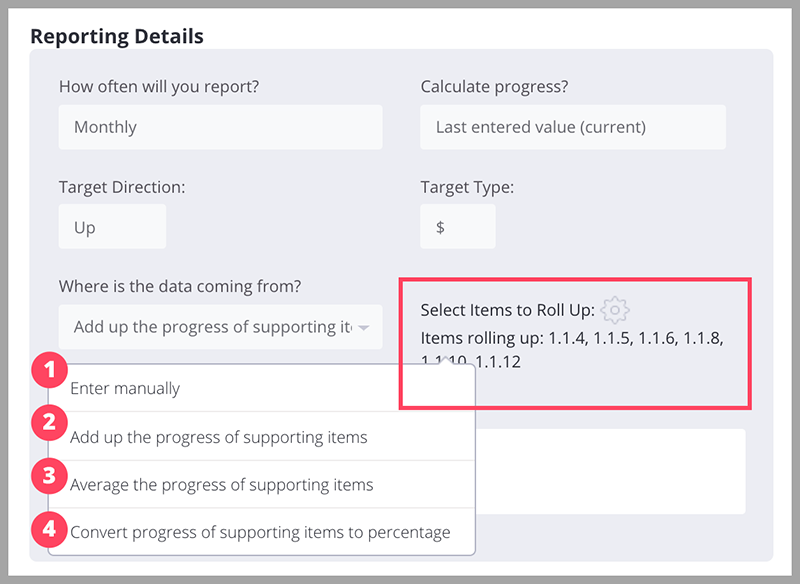 #3 – Connect Your Team to the Plan & Performance
We've made connecting to your plan and performance easier than ever. Every Strategic Objective/Priority will automatically have a calculation to show its status. The Overview page now combines your KPIs and Strategic Objective performance into a single page, and we've updated the Scoreboard to include overall percent achieved and status for each team member's goals.
Strategic Objective Status
Now, every goal under a Strategic Objective/Priority will automatically roll up to an overall status.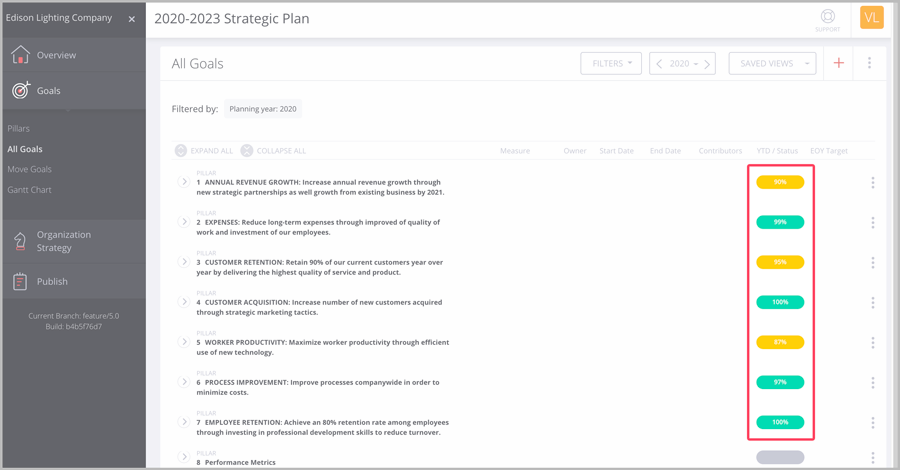 Organization Results
You can now see KPIs and Strategic Objective Performance in a single page. The new overview combines the following into a single view:
The summary performance of your organization's plan.
Your organization's mission and vision.
Your organization's Strategic Objectives/Pillars.
Critical goals that need attention.
An overview of your KPI performance.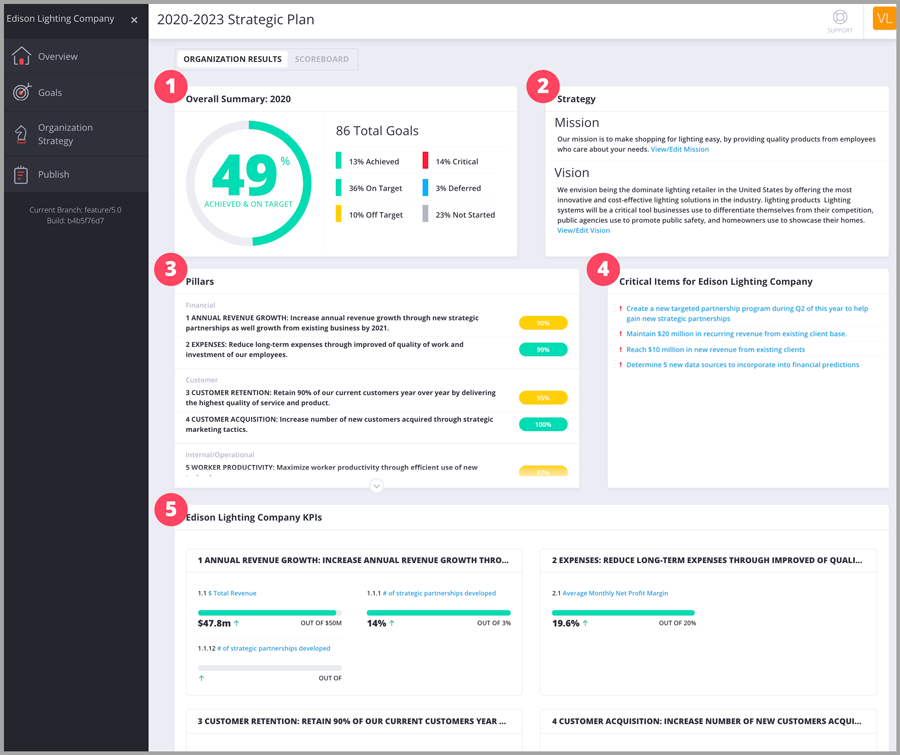 Scoreboard
The Scoreboard now also includes overall percent achieved and status.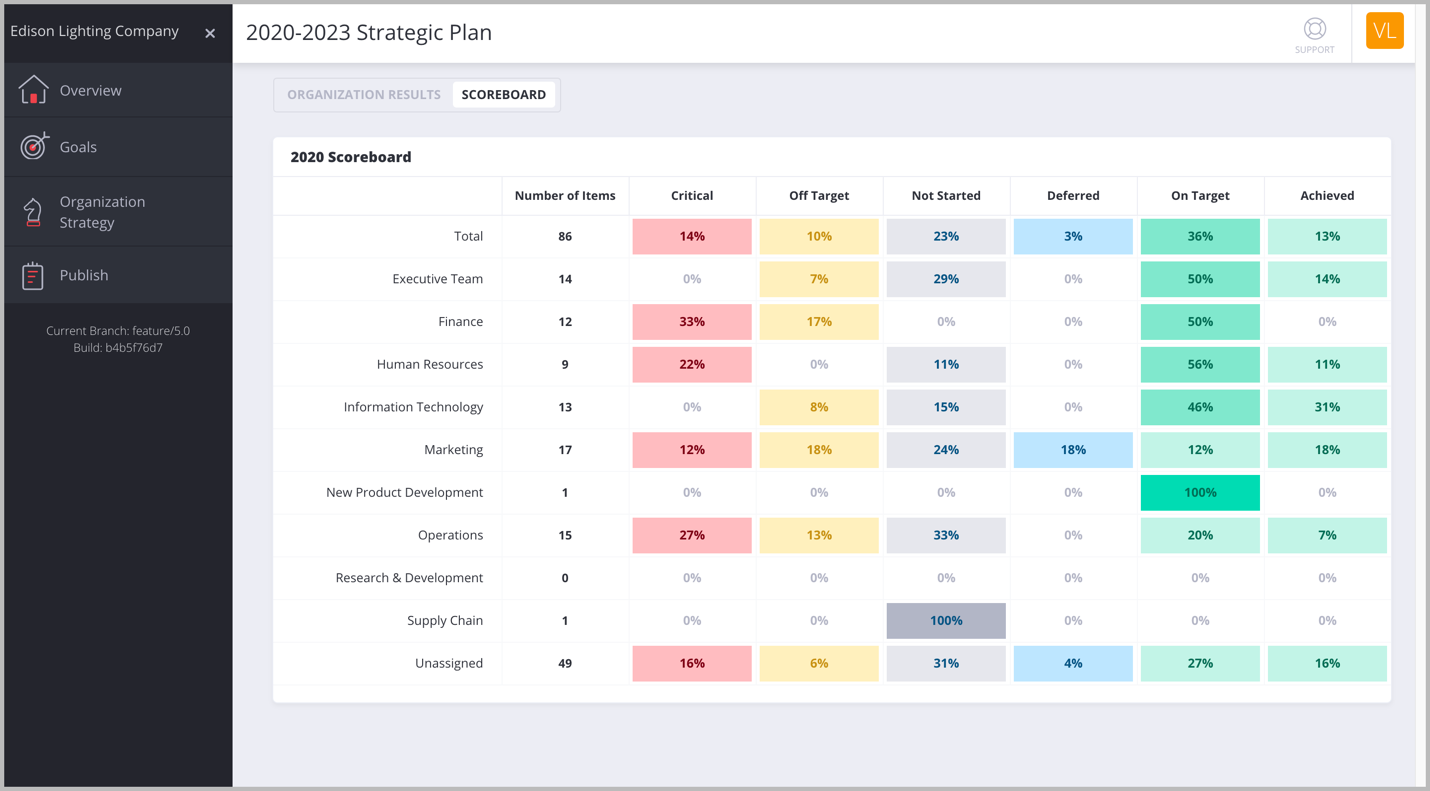 Other Important Changes
A few other important changes include condensing the navigational elements and moving the communication and alerts page into the profile dropdown in the right-hand menu.
Communication and Alerts
We've moved communication and alerts to the profile dropdown in the right-hand corner menu.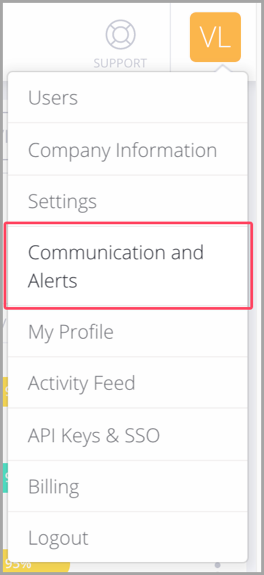 Navigation
We've updated the navigation: Overview | Goals | Organization Strategy | Publish |
Reports and the Dashboard can be found under "Publish."

Want a Demo of the New Features? Let's Talk
If you'd like a training with your Expert Strategist, give us a call at 775-747-7407. Or, fill out the contact form below and we will reach out within one business day.