Software to Implement & Report on Your Strategic Plan.
Implement your plan and automate your strategy
reporting without the hassle of spreadsheets.
Starting at $650/month.
Unlimited Users.
Built for organizations that need a tool to execute their strategic plan.
Software for Organization-Wide Strategy Execution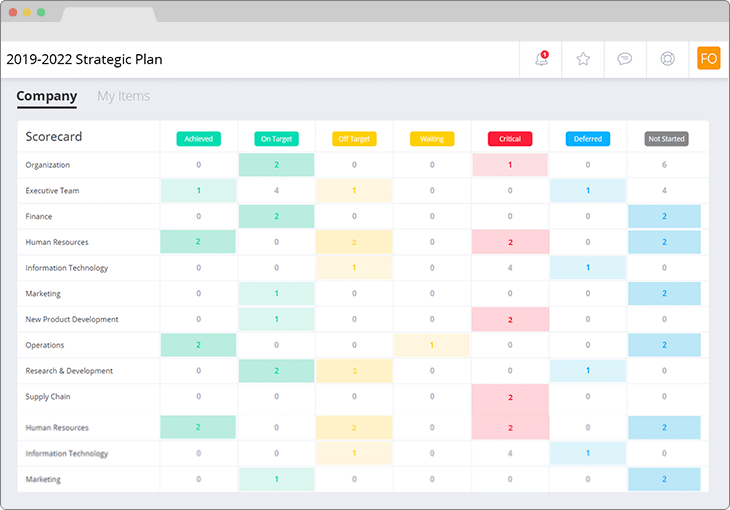 Org-Wide Execution Tools
Performance Overview
Color coding and intuitive icons let you clearly see the status of your goals.
Goal Cascading
Cascade the responsibility and ownership of your plan across your entire organization.
Fast Goal Updating
Empower your team to update their goals in actions in three clicks directly from your plan's homepage.
OnStrategy Mobile Application
Manage your goals on the fly using the OnStrategy Mobile Appication.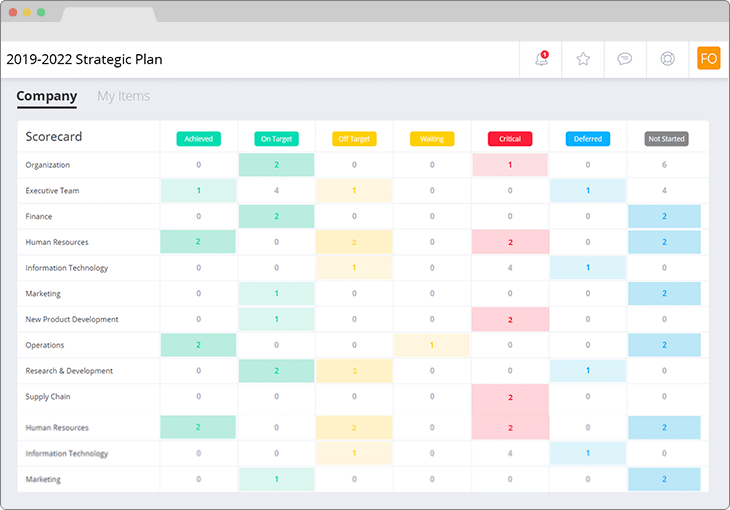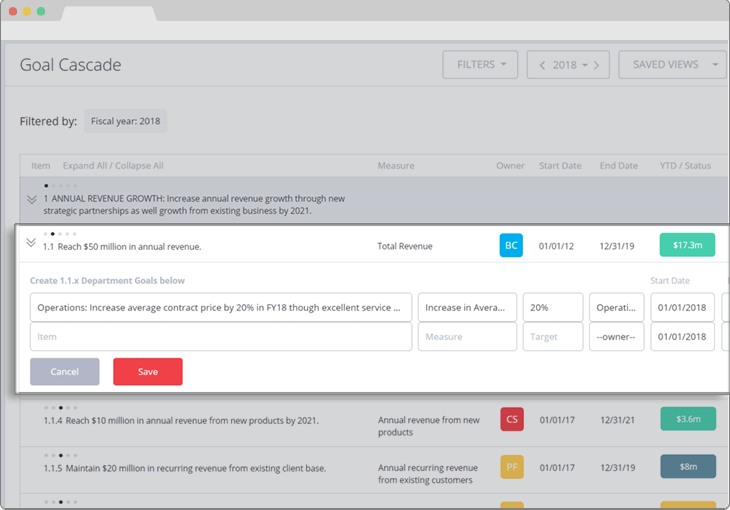 Bring Your Strategic Plan to Life With Real-Time Performance Data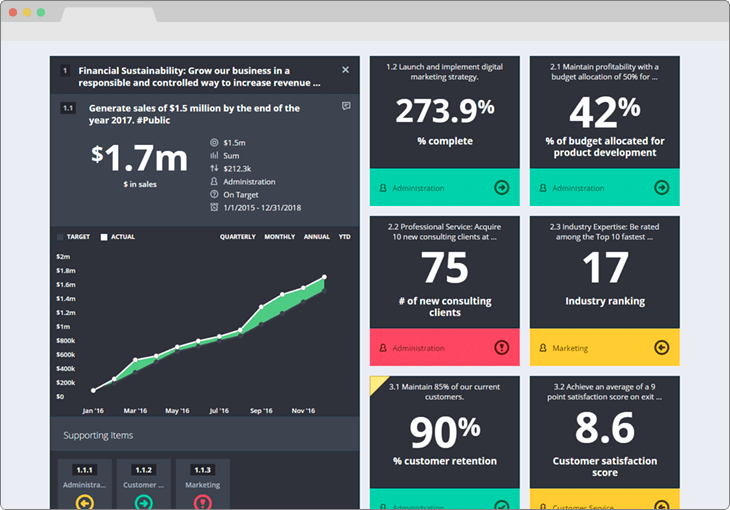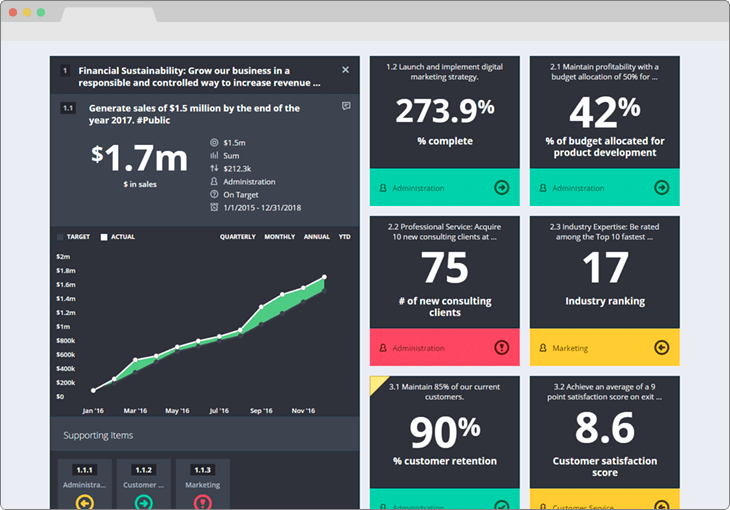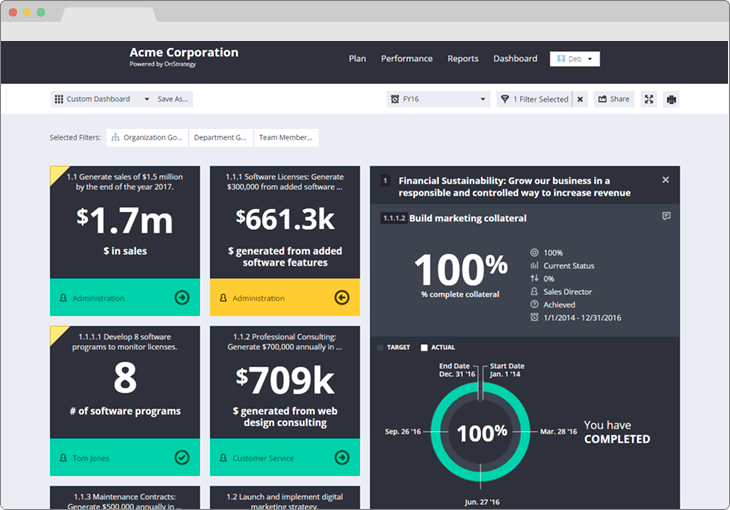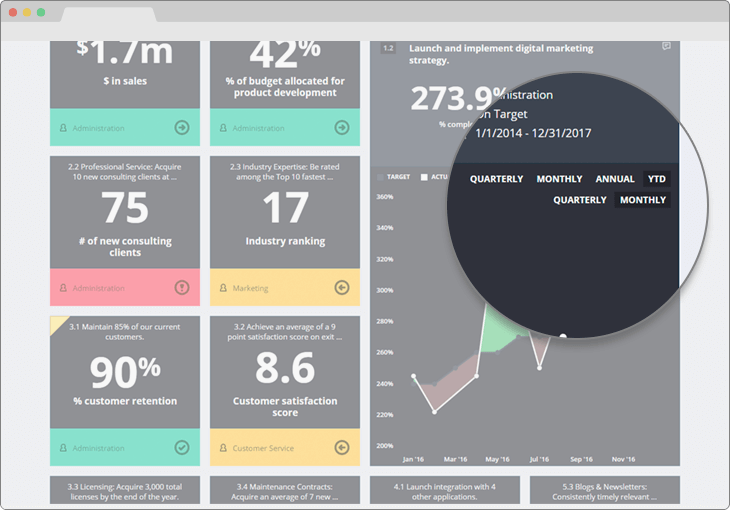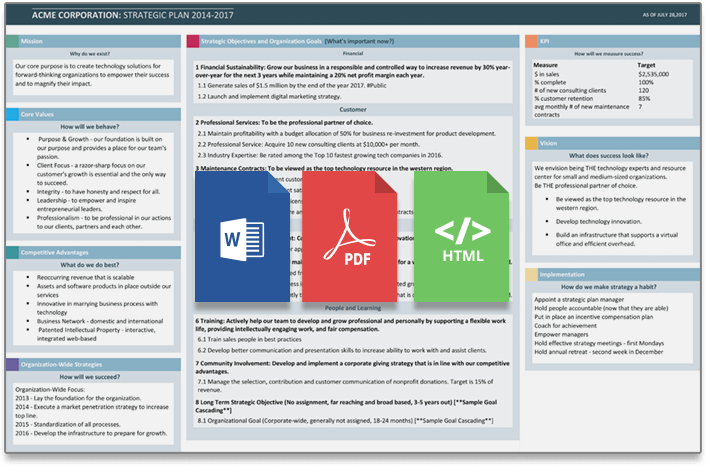 Dashboards & Reporting
Data Made Meaningful
Visual displays of your data provide insight into the core performance indicators driving your success.
Dynamic Views of Data
Color coding, dynamic views, and icons provide visuals to keep your organization engaged in your performance.
Monthly, Quarterly, & Annual Views
View performance by month, quarter, or year-to-date. It's your choice.
12 Downloadable Reports
Automate the reporting process with 12 powerful plan reports you can download in two clicks.
Software for Professional Strategy Implementation
Get your team engaged to start knocking down goals. Unlimited users. Free trial.
Clients Seeing Success with the OnStrategy Platform
College of St. Benedict & St. John University
Chief Information Officer
Mid-Sized Construction Company
CEO & Executive Marketing Director
Assurant Insurance
Strategy Leader
Maryland Food Bank
Executive Vice President
Our rollout went really well and the system works exactly as we wanted.
It's easy to identify Off-Target and High-Priority Items to discuss at monthly meetings. We received awesome support and OnStrategy went above and beyond with implementation.
It was one of the best implementations ever.
Chief Information Officer
College of Saint Benedict & Saint Johns University
There was a lot of heavy lifting in building out the plan across the organization,
but the software made it easier to have the team build out their respective department goals, targets, and supporting initiatives.
We've been doing planning for 20 years and we're finally driving a level of coordination, communication, and collaboration across all nine of our divisions.
CEO & Executive Marketing Director
Mid-Sized Construction Company in the Mid-Western US
We are very happy with the overall process and working with OnStrategy. Kathleen was so helpful and made sure all the data was in the software and ready for reporting.
We love that the tool is so interactive in displaying our data!
Strategy Leader
Assurant Insurance
The team did a great job of working with us to get our Action Plans ready and uploaded into the OnStrategy Platform.
We are very happy with the progress and the quality of support we are receiving!
Executive Vice President
Maryland Food Bank