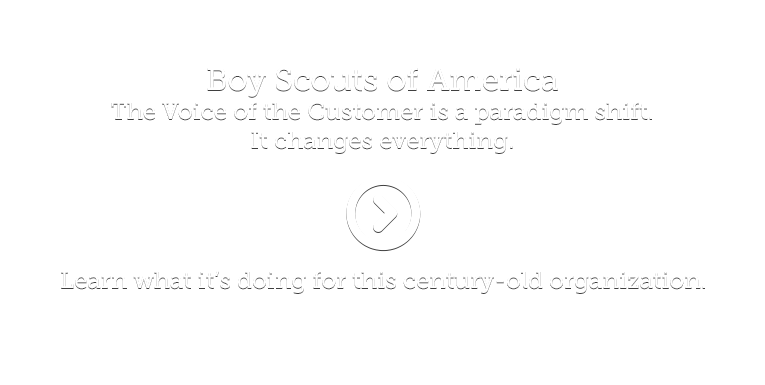 Boy Scouts of America.
Keeping a 100 year old organization relevant and vibrant well into the next century required adopting a fundamentally different view of how we understand our customers.
~ G. Butler, COO
---
OnStrategy designs and deploys a systematic process for applying twice-a-year insight from hundreds of thousands of scouts, parents and volunteers.
Our Methodology
Research Design: Construct a survey-based methodology for capturing net promoter, net detractor and drivers impacting customer experience. Data Collection: Systematic and standardized data collection supported by high response rates. Each quarter, 100,000+ surveys are completed. Analysis and Interpretation: 5 years of benchmark data is obtained reflecting customer satisfaction, areas of weakness and opportunities for improvement.

Customer Persona Development: Define an emotional portrait reflecting the behavioral characteristics of scouts, volunteers and parents to reinforce customer-centric decision making. Experience Mapping: Identify actionable decisions by mapping the ideal customer experience for cub scouts, boy scouts and venturers.
Our Results
New Member Acquisition: Reverse declining membership to drive net-new scout acquisition. Improved Customer Experience: Quantifiable improvements in the scouting experience from the perspective scouts, volunteers and parents.

Organizational Alignment: Clear and focused vision cascaded across departments with clear priorities. Ownership and Accountability: Inspired ownership and accountability with focused attention on specific actions across teams and individuals to maintain member growth and customer satisfaction.
---
Convinced? Let's build something together.