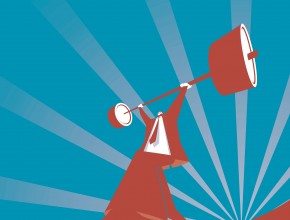 Previously in this column, I discussed the first two steps in the strategic planning process – "Getting ready and organized, and Articulating your mission and vision". In this post, I'll focus on the next step in the strategic planning process: "Reviewing your strategic position".
What is a SWOT Analysis?
You may already be familiar with the trusted business planning tool called the SWOT, but just in case, let me quickly review. SWOT is an acronym that stands for Strengths, Weaknesses, Opportunities, and Threats. These key factors are crucial in assessing your organization's strategic position. You'll want to build on your company's strengths, shore up the weaknesses, capitalize on any opportunities and recognize any threats that may exist.
Internal Analysis
An organization must know where it is in order to know where it can/should go. The goal of the internal portion of the SWOT analysis is to gain a thorough understanding of the strengths and weaknesses of an organization.
Strengths
Your organization's strengths encompass everything that your company does well. Ask yourself what the company's capabilities, skills and resources are that you can draw on to execute plans and actions. Consider your human and organizational capital, the company financial resources, and operational processes. This should be your assessment of what's working in your organization. To see if your organization is making the grade, go to The Strategic Performance Index at onstrategyhq.com.
Weaknesses
Your weaknesses, conversely, encompass those things that are holding your company back from achieving your goals or serving customers. Ask yourself what might be hindering your organization from reaching its full potential. What are the impediments to your success? Maybe your technology management is outdated or perhaps your employees aren't working together optimally as a team. Or consider your employee retention rate. Does your organization spin its wheels hiring and training employees only to lose them within a short time?
It's worth noting here that it is equally important to assess your strengths and weaknesses from the point of view of your customers. It's very likely that your organization could be conducting more business with your existing customers by looking at your operations through their perspective. Additionally, once you're armed with this information, you can make strategic decisions that raise your worth in the eyes of those customers you value most.
External Analysis
Along with the internal assessments of your organization's strengths and weaknesses, reviewing your strategic position also includes evaluating external opportunities and threats in the marketplace. There are issues, trends, and events that can conspire to positively or negatively impact your business, and reacting proactively will better help you determine your strategic position.
Opportunities
Opportunities that exist may be political or social, or they may be environmental or technological. Consider the graying of America. Does this development dramatically increase your potential market? Or consider the increasing diversity of the population. Is there an untapped market out there for you?
Maybe the opportunities are in your industry. If there are big startup costs or regulatory hurdles associated with your industry it could be an opportunity for your company to capitalize on its established business presence in the marketplace by expanding its offerings or product lines.
Threats
Of course, conversely, these same factors that may be opportunities could also be threats. What if the aging population spells the demise of your market share? Or what if your company hasn't already addressed meeting the demands of an increasingly diverse population?
Some of these issues may never have a bearing on your business, but it's important to keep in mind that your operating environment is the outside circle influencing your business. And don't forget to ask for help – objective input can help you see parts you may have missed.
Additional Resources
To better evaluate your strategic position use our SWOT tool.